Creative China Festival 2019(2019-2020)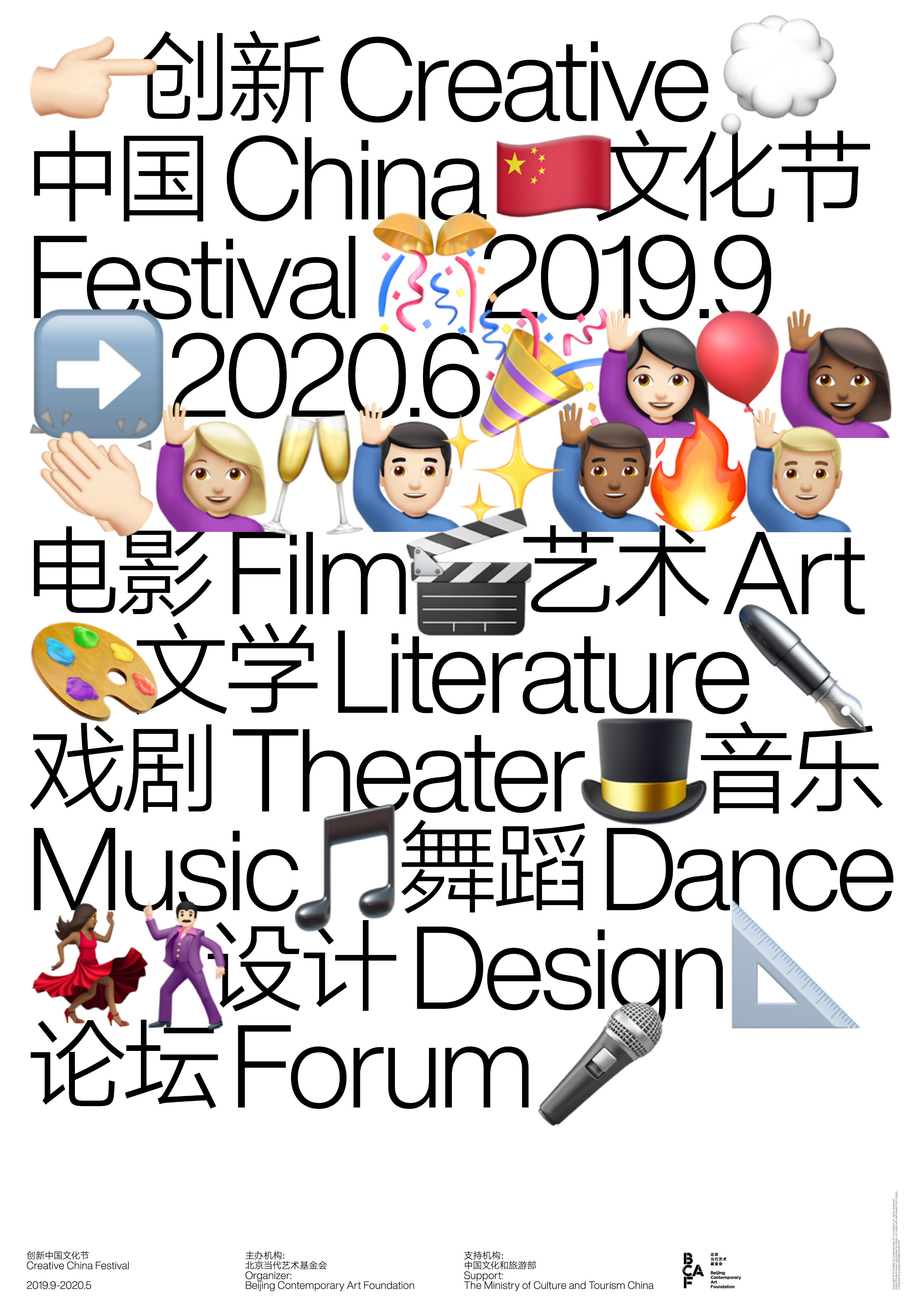 Poster design: Guang Yu
Apple Emoticons are copyrighted by Apple Inc. Used with permission from Apple.

Date:

Sep 2019 - Jun 2020


Location:
New York, Boston, Washington D.C, Los Angeles, Chicago, New Haven, Detroit, Cleveland


Organizers:
Strategic Supporters:
Ministry of Culture and Tourism of China, China Consulate General in New York, Tencent Group, BCAF China Art Film Fund.

Collaborating Institutions in the U.S.:
United Nations, New York City Government, Smithsonian Institution Freer Gallery of Art and Arthur M. Sackler Gallery, New York Film Festival, Film at Lincoln Center, Asia Society in New York, Triennale of Asia, Public Theater, Under the Radar Festival, New York Design Week, Museum of Contemporary Art Cleveland, Cleveland Museum of Art, Fairbank Center at Harvard University, Harvard University Asia Center, The Harvard–Yenching Institute, Department of East Asian Languages and Civilizations at Harvard University, Institute for World Literature at Harvard University, University of Chicago, Wellesley College, Massachusetts Institute of Technology (MIT), The New School, Parsons School of Design, China Institute, Fotografiska, Asian Cultural Council, World Trade Center, KimStim, Triangle Arts Association, Inta, Inc., Dance, La MaMa Experimental Theater Club, Metrograph, Central Park in New York, Governor's Island, Los Angeles County Museum of Art (LACMA), Laemmele Theaters, GRUCCI, Wadsworth Atheneum Museum of Art, San Francisco Film Society, The UC Berkeley Art Museum and Pacific Film Archive (BAMPFA)

Collaborating Institutions in China:

Tencent Group, China Photographers Association, Jet Tone Film production, Zhang Lu Studio, Imaginist Press, Théatre du Rêve Expérimental, New Youth Group, The Physical Guerrillas, Wenhui Living Dance Studio.


Special Thanks:
Oracle Corp., Apple Inc., AmazonSmile Foundation.


The Largest-scaled China Contemporary Culture Festival in the United States
Creative Experimental Collaborative Space for New Generation of Artists!


Beijing Contemporary Art Foundation (BCAF) officially announced that the third Creative China Festival (hereinafter referred to as "CCF 2019") will take place from August 2019 to June 2020 in New York, Boston, Washington D.C., Los Angeles, Chicago, New Haven, Detroit and Cleveland etc.

Supported by the Ministry of Culture and Tourism of China, the annual CCF has become the largest China contemporary cultural festival in the United States, aiming to share the creative voices from China with the world and become an innovative incubator platform for China-US contemporary cultural exchanges. Looking into the future, the festival strengthens the ties between the professionals and showcases Chinese artists' observations and attitudes toward culture and the current world.


CCF coincides with the 40th anniversary of the establishment of diplomatic relations between China and the United States. Spanning over 8 sections—Film, Forum, Dance, Theater, Design, Art, Literature, and Happy Chinese New Year Festival, the festival presents diverse forms of activities, including exhibitions, performances, forums, talks, master classes, workshops, commissioned projects, art residency scholarships, family programs, publishing grants, and professional group visits to China. It not only thoroughly demonstrates cross-cultural works and artistic innovations in China contemporary art and culture, but also promotes in-depth and long-term cooperation between Chinese and American artists and organizations.


Inviting Artists:

Filmmakers: ZHANG Lu, Pema Tseden, HU Bo, LOU Ye, DIAO Yinan, FAN Chao

Writers and Scholars: LIU Cixin, HAN Song, CHEN Qiufan, WANG Kanyu, Ken LIU, YAN Feng

Visual Artists: LIU Wei, LU Yang, Cathy LU, XIAO Quan

Curators: WENG Xiaoyu, CHEN Li, CAI Yingqian

Theater Directors: WANG Chong, LI Ning, LI Jianjun

Dancers: GU Jiani, Eiko OTAKE, WEN Hui


---