Creative China—New York Fashion Week: A Day in China
Summerwood(2016)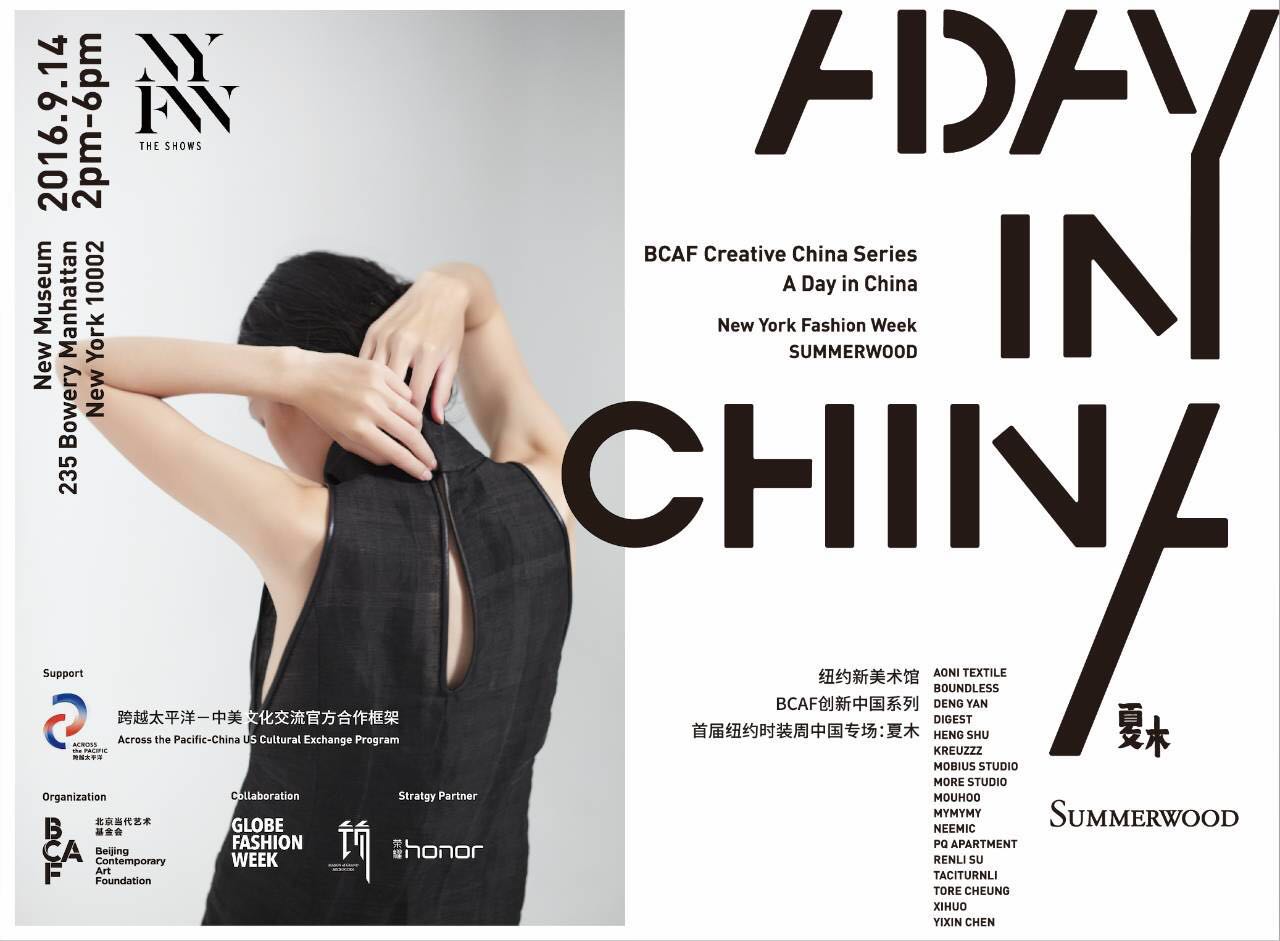 On September 14, 2016, "Creative China – New York Fashion Week: A Day in China" officially opened. The New Museum in Lower Manhattan presented a dynamic show on the theme of "Creative China."

The event is part of the "Across the Pacific – An Official Cooperation Framework for Cultural Exchange between China and the United States" event organized by the Ministry of Culture of the People's Republic of China. It was hosted by the Beijing Contemporary Art Foundation, which is dedicated to promoting cultural innovation and the arts. BCAF cooperated with the flagship new product HONOR 8 on strategy for the event, and also specially cooperated with Globe Fashion Week and ZHU STUDIO.


Nearly 300 people from the fashion and art worlds attended the fashion show and exhibition, including famous brand designers, stylists and buyers. More than 30 international media and fashion bloggers also reported on site, and their photos were presented on six major online social media platforms in China and the United States, adding a touch of Chinese character to New York Fashion Week.




For this special event, BCAF invited the Chinese handmade fabric brand Summerwood, an up-and-coming design label, and arranged for a number of their works to be presented in the new art museum to represent the humanistic perspective and innovative vision of Chinese fashion designers and clothing brands. Such activities are part of BCAF's long-term vision to participate in society through art means, build urban think tanks, and promote sustainable development of ethnic minority areas through the integration of social resources.


Supporting and promoting the Summerwood design studio in its efforts to preserve and revitalize the traditional craft of Liuyang summer fabric, "Summerwood Revival Plan" is the second phase of BCAF's "Inheritance and Protection of Chinese Ethnic Cultures" program following its initiative to promote the folk art of the Dulong people of Yunnan. Maintaining a strong emphasis on the continuation of traditional folk art, the Summerwood label also has a forward-looking modern sensibility, bringing together creative forces in various fields in China to re-create the ramie fabrics and make items for contemporary lifestyles. The pieces made by Summerwood for this event formed a thematic thread running through the exhibition.