Cultural Exchange

Creative China Festival 2018
Dance | Red by Wen Hui and The Moon Opera by Wang Yabin (2018)



In the dance section, choreographer Wen Hui's documentary performance Red premiered at Asia Society from November 15 to 17, 2018, offering a critical examination of the Cultural Revolution through dance, oral histories and video documentation. New York University hosted related academic talks and workshops on November 10, 2018. Another theatrical dance, The Moon Opera, created by Chinese dancer and choreographer Wang Yabin, featured on November 3 at the Pittsburgh International Festival of Firsts. Based on a contemporary Chinese novel by Bi Feiyu, the dance drama integrates Chinese traditions with contemporary dance, tracing a Peking Opera performer's winding spiritual journey.

Red

Red (2015), choreographed by Wen Hui, is one of the latest works from the Beijing-based Living Dance Studio. As a documentary performance, its point of departure is derived from a nationally renowned ballet,The Red Detachment of Women, one of the eight revolutionary model theatrical works that formed the official cultural canon of the Cultural Revolution. Red uses a variety of documentary materials—publications, audio-visual clips, memorabilia from the original revolutionary model ballet, and interview footage—to not only evoke a special territory of memory but also to reactivate a living and lived archive within specific bodies: those of the performers, and those of people who experienced the Cultural Revolution.


Wen Hui, Red, Photography by Dai Jianyong, courtesy of Living Dance Studio.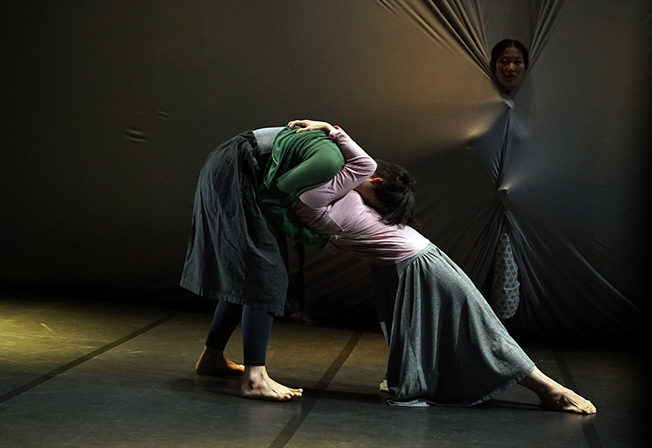 Wen Hui, Red, Photography by Dai Jianyong, courtesy of Living Dance Studio.

About the Artistic Director: Wen Hui

Wen Hui is a choreographer, dancer and documentary filmmaker; a pioneer of China's modern dance. She founded the Living Dance Studio in 1994. In 2005, she and Wu Wenguang cofounded the Caochangdi Workstation in Beijing, and the annual Crossing Festival. Wen studied choreography at the Beijing Dance Academy. In 1994, she went to New York to study modern dance. From 1997 to 1998, she continued her practice and research in New York through a fellowship from the Asian Cultural Council. From 1999 to 2000, she joined Ralph Lemon's Geography Trilogy. In 2004, her Report on the Body (2002) was awarded the ZKB Patronage Prize by Zürcher Theater Spektakel. In 2015, her work was presented at the China Pavilion at the Venice Biennale. Wen's work is often seen on stage at major international dance and theatre festivals.





The Moon Opera

Chinese traditions meet modern dance in The Moon Opera by Wang Yabin. Based on a novel by Bi Feiyu, it tells the story of Xiao Yanqiu who is playing the lead in the classic Chinese opera Flying to the Moon. The Moon Opera is a dance drama in which Chinese traditions and contemporary endeavors complement each other in the manner of Yin and Yang. It strives to achieve a sense of harmony between extremes, contrasting emotions of jealousy, love and rejection through high-voltage, theatrical moments.


Wang Yabin, The Moon Opera, Photography by Liu Haidong, courtesy of Yabin Dance Studio.