Film | China Art Film Festival : Director Zhang Lu's Fukuoka American Tour and Talks


The "BCAF China Art Film Fund" was honored to organize the "China Art Film Festival," which was held throughout the United States from October 2019 to February 2020. The festival invited filmmakers Zhang Lu, Pema Tseden, Hu Bo, Lou Ye, Diao Yinan, and other directors to visit the United States to present and discuss their work.


Directors and Films:
Fukuoka by Zhang Lu
Jinpa by Pema Tseden
An Elephant Sitting Still by Hu Bo
Saturday Fiction by Lou Ye
The Wild Goose Lake by Diao Yinan


Cooperating organizations included: New York Film Festival, Film at Lincoln Center, Harvard University, Yale University, New York University, Freer Gallery of Art and Arthur M. Sackler Gallery of the Smithsonian Institution, Metrograph, Massachusetts Institute of Technology (MIT), Wadsworth Atheneum Museum of Art, University of Chicago, San Francisco Film Society, The UC Berkeley Art Museum and Pacific Film Archive, KimStim, Los Angeles County Museum of Art (LACMA), and Laemmle Theatres.


---
Director Zhang Lu
Born in China in 1962, Chinese-Korean director Zhang Lu entered the field of film creation as a literary writer. His films have a strong individual style and literary feel. In 2000, Zhang's first short film,
Eleven
, was invited to compete at the 58th Venice International Film Festival in the short film section. In 2003, his feature debut,
Tang Poetry
, was shortlisted at the Locarno International Film Festival. His second feature film
Grain in Ear
(2005) was screened at the Cannes International Film Festival and won the ACID prize. It also won the New Currents Award at the 10th Busan International Film Festival.
Desert Dream
(2007) was shown in competition at the Berlin International Film Festival.
Gyeongju
(2014) was shown in competition at the Locarno Film Festival. In 2016, Zhang served as a judge at the Busan International Film Festival, and
A Quiet Dream
was shown as the opening film of the festival. Zhang's works have been exhibited in the National Film Archive of South Korea, Ullens Center for Contemporary Art in Beijing, Busan Cinema Center and Fukuoka Film Festival in Japan.
Tour and Director Talks in the United States
Sunday, November 3, 14:00-16:15
Smithsonian's Freer Sackler, Washington, D.C.
Thursday, November 7, 19:00-21:15
Harvard University, Fairbank Center, Boston
Ticketing information: https://fairbank.fas.harvard.edu/events/film-screening-fukuoka/
Sunday, November 10, 16:00-18:15
Yale University, New Haven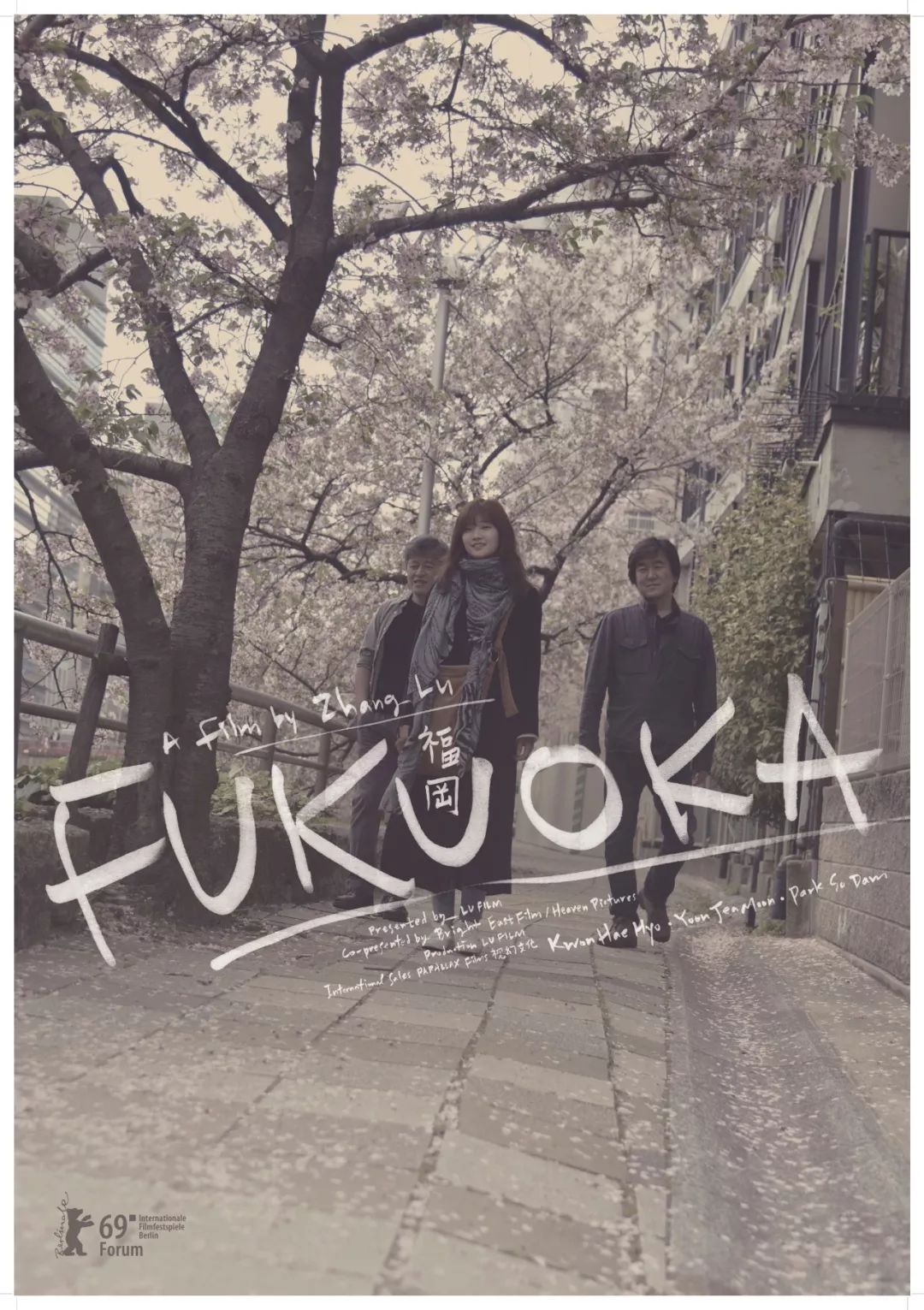 Fukuoka
Korea/86 mins/2019
Korean with English subtitles
Director: Zhang Lu
Plot: Je-moon and Hae-hyo were very good friends when they were in University, and were key members of the drama club. However, they had a falling away because they liked the same girl. They never met again. With the passage of time, Je-moon, who runs a second-hand bookstore in Seoul, is nearly middle-aged. Memories of past times in college not only have not faded away, they enter his mind more and more frequently. The appearance of a mysterious girl So-dam changes his life, prompting Je-moon and So-dam to go to Fukuoka, Japan to look for Hae-hyo. In Japan, can Je-moon, Hae-hyo and So-dam really dissolve the past?
The film premiered as part of the Forum section in the 69th Berlin International Film Festival, was screened in the Focus section of the 9th Beijing International Film Festival, and was the opening film of the 2019 Fukuoka Asian Film Festival.