Visual Art | Artist Liu Wei First U.S. Solo Museum Exhibition

---

Liu Wei: Invisible Cities


September 13, 2019 to January 5, 2020 Museum of Contemporary Art Cleveland
October 13, 2019 to February 16, 2020 Cleveland Art Museum



---
In the autumn of 2019, supported by the third Creative China Festival, the Museum of Contemporary Art Cleveland (moCA Cleveland) and the Cleveland Museum of Art (CMA) jointly held the first American solo museum exhibition of the well-known Chinese artist Liu Wei, titled
Liu Wei: Invisible Cities
. The title of the exhibition is named after the Italian writer Italo Calvino's novel of the same name
.
The exhibition is jointly presented in the two museums, and in particular responds to the architectural style of their respective spaces. Curated by Courtenay Finn, Chief Curator of moCA Cleveland, the exhibition presents a series of works created by Liu Wei with abstract and fragmented techniques.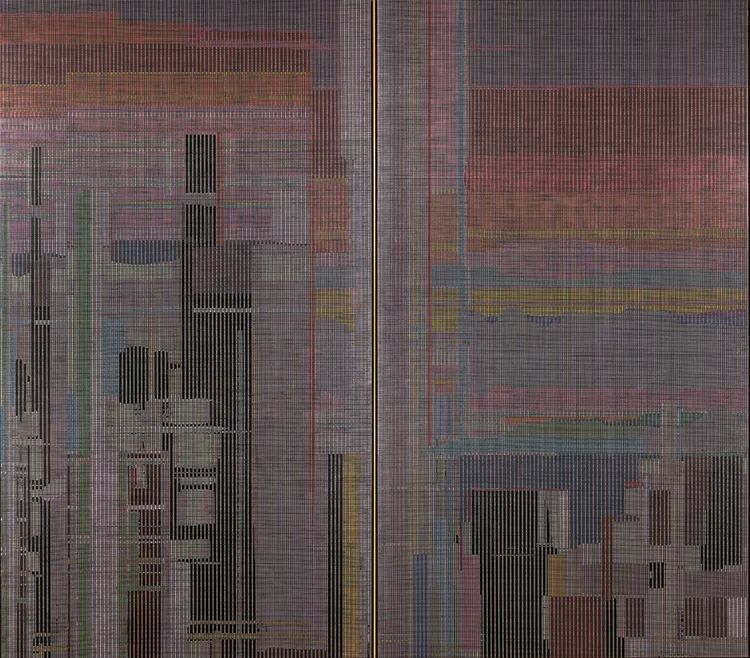 The exhibition is by far the largest in the United States for the artist to date. moCA Cleveland displayed two large commissioned works, which expand on two important works of the artist shown at the 58th Venice Biennale,
Microworld
(2018) and
Devourment
(2019). A series of new sculpture installations were displayed together with paintings and sculptures, including works from the
Anti-Matter
(2006),
Library
(2015-18) and
Look! Book
(2014) series. Liu Wei's exhibition at the CMA was organized by CMA Curator of Contemporary Art Emily Liebert. It highlighted the painting
Panorama No.2
(2015-16) and displayed the artist's famous
Love it! Bite it!
(2014) sculptures. The works in
Invisible City
respond to Marco Polo's description of the city in Calvino's novella - a wonderful and fascinating place where things will never look like what they are - and stress that the world we live in is far more than what we see. Liu Wei's works are thought-provoking and ask us to reexamine the construction of the surrounding environment.
Liu Wei
lives and works in Beijing. He graduated from the oil painting department of the China Academy of Fine Arts in 1996. He is one of the most famous contemporary artists in China. Liu Wei's works explore the social development of modern Chinese society. Liu Wei's works in various media (including photography, painting, sculpture and installation) reveal the vision and conditions of China's transformation. He often uses geometry and architectural forms in his works as a reference for the urban environment. Liu's works have been exhibited in museums and institutions such as the Samsung Art Museum, Seoul (2016), Ullens Center for Contemporary Art, Beijing (2015), Museum Boijmans Van Beuningen, Rotterdam (2014), and the Shanghai Minsheng Art Museum (2011). He has participated in international biennales and group exhibitions including at the Qatar Museum, Doha (2016), Louis Vuitton Foundation, Paris (2016), Lyon Biennale (2015), Asian Art Museum, San Francisco (2015), San Antonio Art Museum, Texas (2015), Rubell Museum, Miami (2013), Sharjah Biennale (2013), Fourth Guangzhou Triennial, China (2012), Shanghai Biennale (2010), Busan Biennale, South Korea (2008), and the 51st Venice Biennale (2005).
---

About the Cooperating Institutions

The Cleveland Museum of Contemporary Art

The Museum of Contemporary Art Cleveland (moCA) was founded in 1968. It is a non collection art institution and the only contemporary art museum in the area. moCA produces three new exhibitions every year, bringing a new experience to visitors each season. Since its establishment, moCA has presented the work of more than 3,000 artists to the northeast of Ohio, including many artists' first solo exhibitions.
moCA Cleveland provides a unique and dynamic place for contemporary visual arts to challenge, inspire and educate the public. Its goal is to expand the boundaries of innovation, creativity and exploration through exhibitions, publishing, education and outreach projects.
The Cleveland Museum of Art
The Cleveland Museum of art was founded in 1913 by Cleveland entrepreneurs Hinman B. Hurlbut, John Huntington and Horace Kelley. The museum has a diverse and permanent collection of more than 61,000 works of art from all over the world and is famous for its large number of Asian and Egyptian works of art. The museum is open to the public free of charge, with about 770,000 visitors per year (2018), making it one of the most visited art museums in the world.
Cleveland Museum of Art strives "for the permanent benefit of mankind" through creating innovative art experiences. Its mission is to become a global museum leader. The Cleveland Museum of Art provides a dynamic experience of the power and enduring relevance of art in today's global society. The Cleveland Museum of Art establishes, preserves, researches and shares excellent art collections from all over the world, and forms a center of knowledge for society.