2022 Samuel H. Scripps/American Dance Festival Award to be Presented to Shen Wei
2022 Samuel H. Scripps/American Dance Festival Award
to be Presented to Shen Wei
"Shen Wei is one of the most innovative choreographers of the 21st century. His original movement, fusing eastern and western traditions combined with his exquisite costume and set designs, create life-size visual feasts that transport and thrill audiences. We are so pleased to present him with this award and to celebrate the 22nd anniversary of the founding of his company, Shen Wei Dance Arts, at ADF,"
——stated ADF Executive Director Jodee Nimerichter.
On July 16, 2022, the American Dance Festival (ADF) held a grand ceremony and awarded the renowned artist and dancer Shen Wei with the "ADF Lifetime Achievement Award". Shen Wei was invited to be in residence at the ADF 2022 performance season, during which his latest commissioned work for young dancers, "Summary," was premiered globally and received widespread acclaim.
Previously the Samuel H. Scripps/American Dance Festival Award has been presented to Martha Graham, Merce Cunningham, Paul Taylor, Hanya Holm, Alwin Nikolais, Katherine Dunham, Alvin Ailey, Erick Hawkins, Twyla Tharp, Anna Sokolow, Donald McKayle, Talley Beatty, Trisha Brown, Meredith Monk, Anna Halprin, Fayard and Harold Nicholas, Pina Bausch, Pilobolus, Garth Fagan, Maguy Marin, Eiko and Koma, Bill T. Jones, Murray Louis, Mark Morris, Laura Dean, Ohad Naharin, Martha Clarke, Anne Teresa De Keersmaeker, William Forsythe, Lin Hwai-min, Anjelin Preljocaj, Lar Lubovitch, Lucinda Childs, Ronald K. Brown, and posthumously in honor of Doris Humphrey, Charles Weidman, José Limón, Pearl Primus, and Helen Tamiris.
American Dance Festival Award Speech
Shen Wei, a dancer, choreographer, director, artist, designer, and filmmaker, is a visionary leader.
With brilliant depth, exceptional technique, and mesmerizing beauty, Shen Wei has created his own artistic language. His works ingeniously blend influences from Eastern and Western cultures, unconstrained by the boundaries of cultural and artistic definitions. Whether on stage, canvas, film, or museum exhibition, his works brilliantly fuse sensory and intellectual precision, visual design, and bodily energy, defying classification. There is only one word to describe it: "Shen Wei."
Shen Wei is both a visual magician and a technological innovator. His unique dance technique is rooted in his training and experience in Eastern and Western performance, creating a new generation of dancers who express personal freedom. With an awareness and control of breath and the deep trust of his own body, Shen Wei's dance technique embodies the abstract objectivity of calligraphy and the motivating source of the dancer's inner body - a true reflection of personal thought.
Shen Wei is an artist with infinite imagination, always evolving and exploring. Through mastery of formal structure and a fusion of artistic vocabulary, he has presented a profound and unique human perspective to the world. His works illuminate the inner landscape of the soul and the hidden secrets of the spirit. When we are moved by his works, we are healed. From the subtlest human gestures to the most profound grand spectacle, he inspires insight and moves the heart. This is the art of the future, completely self-consistent and self-evident, incredibly soothing and surprising.
#01
Exclusive Interview with Shen Wei:
"Enjoying the Life Process of Being an Artist"
BCAF: Congratulations on receiving another world-class professional award, and it's even the Lifetime Achievement Award from the American Dance Festival! When you saw the review of the outstanding work over the years at the award ceremony, what special insights did you have?
Shen Wei: Thank you! I haven't had the opportunity to review my past work in a comprehensive way, always being pushed forward by one creation after another. This time, seeing short clips of important works I have created since 2000, I indeed felt that different artistic works have brought different feelings to the world. These works are the crystallization of the touches in my life at different times. Their emergence has moved many people's hearts, and from this, I also feel the rich artistic career and the significance to social development.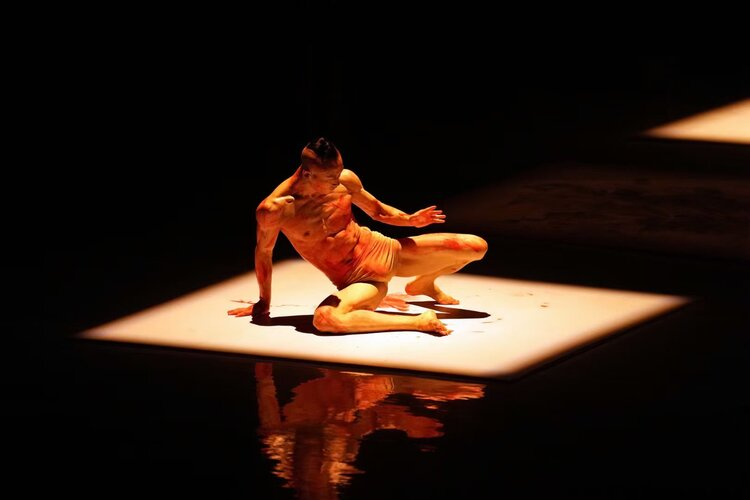 BCAF: The event was postponed from 2020 due to the pandemic and is now being held with great fanfare this year. How have the changes in the world during this period affected your future work and thinking?
Shen Wei: I have been prepared for these changes for a long time, and the world's large-scale changes are not caused by a single event. I have given myself sufficient physical, mental, and intellectual preparation. There is a feeling of facing the origin of new life, and I am confident to face the challenges of the future.
BCAF: After you moved to Paris, what are your observations and new insights into the originality of art and culture in Europe, America, China and other places?
Shen Wei: The cultures and ways of life in these three places have different social and life values, and culture develops according to each value system. It is directly linked to their respective historical backgrounds and the direction of their pursuit of civilization. In recent years, their respective developments have begun to be influenced by past experiences, making adjustments and beginning to change to varying degrees. And this is only the beginning of change. Originality is connected to the investment and understanding of artists themselves. In recent years, I have felt that China is starting to have the power and trend to encourage and support originality.
BCAF: Besides being a choreographer, you are also an outstanding film director, costume and stage designer, and artist. Over the years, due to the fusion of Eastern aesthetics and global contemporary cultural thoughts, you are highly respected worldwide. Could you please share some personal advice on how to broaden one's horizons, break through creative boundaries, and construct a unique artistic language with young creators who are just starting out?
Shen Wei: You need to open your interest to everything, and then you need to learn deeply and accumulate experience constantly. One day, you will reach a mature period. The length of time and the difference in creative ability are directly proportional to your effort and investment. Don't be impatient, and be patience. Enjoy the process of being an artist, not just for the sake of an end goal. Constantly enrich your life to make it more colorful.
#02
Shen Wei's new work "SUMMARY" premiered globally
During ADF's 2022 performance season, Shen Wei's latest commissioned work "Summary," which was invited to create a residency, also premiered globally and received widespread acclaim. The wonderful performance of nine young female dancers received enthusiastic cheers from dance industry experts, critics, and live audiences from around the world.
#03 Artist Introduction
Hailed as "one of the most expansive, creative minds in the arts" (The New York Sun), choreographer, director, and painter Shen Wei is internationally renowned for the breadth and scope of his artistic vision.
Admiration for his talent has earned Shen Wei numerous awards, including a 2007 MacArthur Genius Grant Award, the US Artists Fellow Award, and a John Simon Guggenheim Fellowship. Other accolades include Australia's Helpmann Award, the Nijinsky Emerging Choreographer Award, the Algur H. Meadows Prize, Les Étoiles de Ballet Award, Audi-China 2012 Artist of the Year Award, GQ-China 2013 Artist of the Year Award, the 2013 Chinese Innovator Award from The Wall Street Journal-China, and the Asian Cultural Council's 2017 John D. Rockefeller 3rd Award.
Born in China's Hunan province in 1968, the son of Chinese opera professionals, Shen Wei was trained from youth in the rigorous practice of Chinese opera performance and traditional Chinese ink painting and calligraphy and was a performer with the Hunan State Xian Opera Company from 1984 to 1989. During his student years, he studied western visual art, which propelled an interest in modern dance.
In 1989, he began modern dance training at the American Dance Festival's program at the Guangdong Dance Academy in China. In 1991 he became a founding member of the Guangdong Modern Dance Company, the first such company in China. Upon receipt of a fellowship, he moved to New York City in 1995 to study with the Nikolais/Louis Dance Lab and, in the same year, was invited to create work on ADF students at the American Dance Festival. In July 2000, he founded Shen Wei Dance Arts (SWDA) with his ADF students, and his company quickly entered the international touring circuit.
His company has toured in over 30 countries in 140 cities. He formed his own dance technique "Natural Body Development," and it has been taught in universities and dance centers as well as at the American Dance Festival, where it will be taught again in 2022.
Shen Wei has received over 23 commissions from major presenting institutions to support his creative work, including sixteen commissions from the American Dance Festival and commissions from Het Muziektheater, Lincoln Center Festival, and the Kennedy Center, as well as from the Metropolitan Museum of Art, Park Avenue Armory, Hong Kong's New Vision Arts Festival, Mondavi Center for the Performing Arts, Edinburgh International Festival, and, most recently, BAM and the Performing Arts Center at Purchase College.
The lead choreographer for the Opening Ceremonies of the 2008 Beijing Olympics, Shen Wei has also created dances for Les Grands Ballets Canadiens de Montréal and Les Ballets de Monte-Carlo and choreographed the Rome Opera's production of Rossini's Moise et Pharaon, conducted by Ricardo Muti. In 2013, Shen Wei was commissioned to create a new work for the Dutch National Ballet in Amsterdam, a new version of Rite of Spring with live orchestra performance, and he choreographed, directed, and designed a new production of Carmina Burana for the chorus, orchestra, and ballet of Teatro di San Carlo in Naples, Italy, with his company performing in leading roles.
Recently, his work as a visual artist and choreographer has entered into a new dialogue in a series of performative installations and site-specific works that have been presented at a number of museums and galleries including the Metropolitan Museum of Art, North Carolina Museum of Art, Collezione Maramotti in Italy, the Forum at the Yerba Buena Center for the Arts, Rockbund Museum of Art in Shanghai, MDC Museum of Art + Design in Miami, Guggenheim Museum, Asia Society Hong Kong Center, and the Isabella Stuart Gardner Museum.
As a painter, Shen Wei has had solo exhibitions in leading galleries and museums: Chambers Fine Art Gallery (New York), Crow Collection of Asian Art (Dallas), Hong Kong Cultural Center, and Tucson Museum of Art. MDC Museum of Art + Design in Miami, Asian Society Hong Kong Center and the Power Station of Art Museum Shanghai. Recently his large solo exhibition SHEN WEI: Painting In Motion included his painting, film, and dance on video exhibit at the Isabella Stuart Gardner Museum in Boston December 02, 2020–June 20, 2021. In the fall of 2015, he participated in a group show at London's Fine Art Society: Performance & Remnant. Shen Wei's recent large-scale painting series have received significant acclaim in the art world.