Announcement of the results of the 2022 Eco Design Grant
Copyright © Beijing Contemporary Art Foundation, Poster Design: Guang Yu
The most influential talent funding venture and cross-border collaboration network in China's sustainable design field
BCAF Cultural Public Welfare Venture Capital:

Truth, Goodness, Beauty, the Road to a More Just Future
2022 · Supporting Sustainable Design to Continue Moving Forward
BCAF aims to "enable more people to freely and equally share cultural arts, and build a diverse human civil society." It is committed to becoming China's most socially innovative, pioneering and dynamic funding arts foundation and creative platform. Under the continued impact of the pandemic, the coexistence of human creativity and natural environment has become a global focus.
Promoting open collaboration in "eco design" is one of BCAF's core strategic areas.
This year, BCAF established the "BCAF Eco Design Public Welfare Venture Capital Special Fund" to help incubate and upgrade China's creative industry. As the first cultural public welfare venture capital in China's art and public welfare industry, the special fund aims to facilitate innovative cross-border collaborations, while providing investment assistance and comprehensive cooperation resources, and is committed to enhancing the public nature of projects in response to social issues.
Annual Application Overview

From August 8th to November 30th, 2022, the organizing committee received nearly 300 valid applications from all over the country, covering a variety of types of public environment practice involving public participation: initial landing of public facilities in urban communities, revitalization and co-construction of old street blocks and communities, sustainable materials for daily products, popularization of public participation in ecological diversity protection products and flat games, etc.
After professional review by 22 judges, the best works in five funding areas were selected from about 90 shortlisted projects, each with one winner, and two outstanding works, for a total of 15 designers/teams who received the final honor and funding.
Sincere congratulations to all creators for their persistence in ideals and practical efforts, and we look forward to continuing to practice the idea of sustainable ecological environment with more friends, gathering a bit of action from the perspective of public participation!
Special articles on the funded projects, designers and teams will be released in January 2023.
#01
Public Space Design
Outstanding Design (1)

Selected Project: BladeMade
Selected Team: Superuse
Judging Comments:
"Focusing on the wind energy industry, turning industrial waste into public urban furniture, solving sustainability problems while involving the public to co-build community space, with outstanding visual patterns and eye-catching shapes that are refreshing. Some completed projects in Europe have shown the good prospects of this project."
-Shuhei Aoyama, Founder and Chief Architect of B.L.U.E. Architecture
"Through material reshaping, the (Superuse) team has made its own exploration and practice, with experimentation."
-Zhou Zishu, Associate Professor at the Central Academy of Fine Art Design School, Director of the Social Design Teaching and Research Office, and interdisciplinary designer and researcher.
Project Description:
Superuse was founded in the Netherlands in 1997. The studio is renowned worldwide for its innovative design methods and "open source" design approaches. In December 2016, Superuse China was registered in Beijing, China, and named "Yuanzao Sustainable Design Consulting Co., Ltd." "BladeMade " is a wind turbine blade recycling product launched by Superuse, which uses materials from the wind energy industry to make public furniture, such as benches and tables.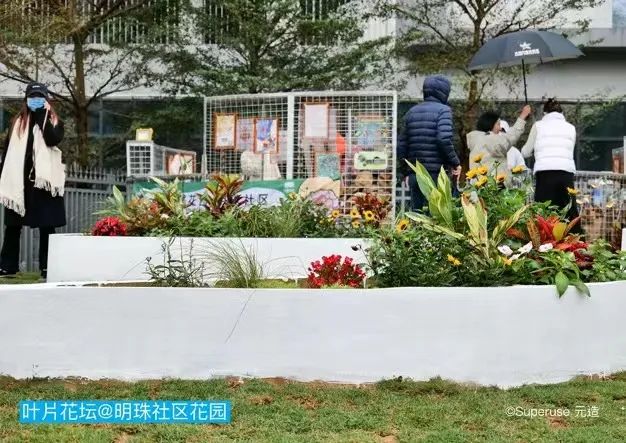 Excellent Finalists
(2, in no particular order)
Selected Project: Participation Action in Jubaoyuan Community, Nanning
Selected Team: Community Garden and Community Building Experiment Center of Tongji University, CloverNature School of Shanghai, and Green Rabbit Studio
Judges' Comments:
"(The Jubaoyuan Community Project) has made its own exploration and practice in community activation. It has obvious advantages in terms of scale."
-Zhou Zishu
Associate Professor at the Central Academy of Fine Art Design School
Director, Department of Social Design
Designer and researcher in interdisciplinary fields
Project Overview:
The renovation of an old community in Nanning, Guangxi Province faced many challenges, such as poor overall conditions, difficulty in renovation, complex resident structure, difficult reconciliation of people's demands, and high demand for supporting facilities and later management resources. The design of the Jubaoyuan Community Garden consists of mini spaces distributed in idle areas of the community. By creating a public space where everyone can work and discuss together, based on the spatial network created by the garden, flower enthusiasts and neighbors can build new neighborly relationships, reconstruct the relationship between people and nature, and improve the relationship between people. The Jubaoyuan Council was established under the opportunity of the renovation of the old community. By discussing community space issues with flower enthusiasts, it promotes the autonomy and governance of residents in the renovated community. After the project is completed, it will achieve the future sustainable operation of both "material" and "non-material" improvements in the old community.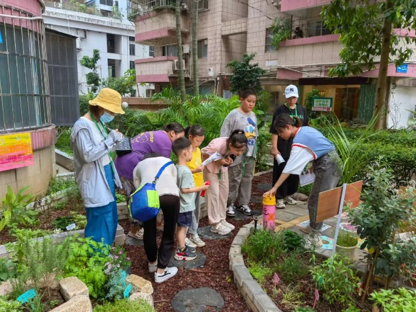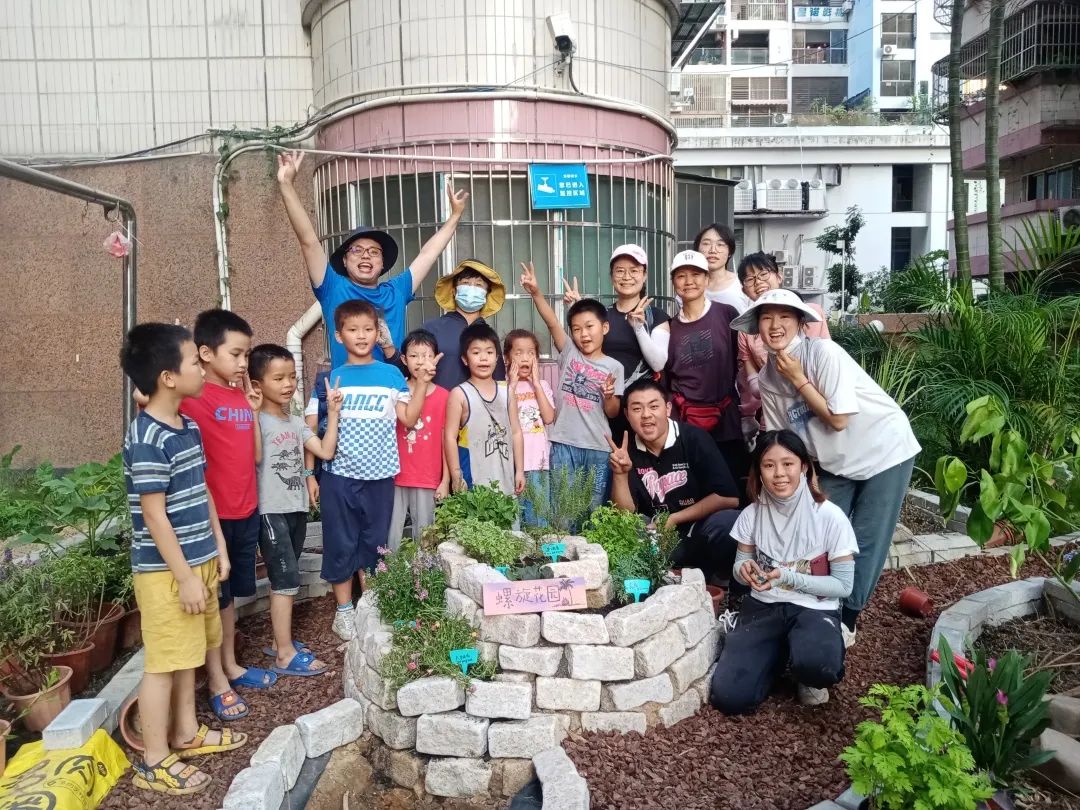 Selected Project: Alley Phase II·Renewal of Community Public Spaces
Selected Team: Nhoow Architects
Judges' Comments:
"As a three-year urban micro-renewal project, as a microcosm of Chengdu, it shows how to activate an old community through combined renewal. The slopes that can be seen everywhere provide convenience for all age groups, and the operation strategy of social and market parallelism, the art exhibition for young people, and the shared canteen for the elderly inject sustainable and passionate vitality into the community while providing community services."
-Shuhei Aoyama, Founder and Chief Architect of B.L.U.E. Architecture

"(The Alley Phase II) has made its own exploration and practice in spatial creation, highlighting completeness."
-Zhou Zishu
Associate Professor at the Central Academy of Fine Art Design School
Director, Department of Social Design
Designer and researcher in interdisciplinary fields

Project Overview:
The Alley Phase II·Renewal of Community Public Spaces project is located at 26 Yulin Sanxiang, Wuhou District, Chengdu, Sichuan Province. The project started design in 2018 and was completed in July 2022 after three phases of upgrades. From the landing of the friendly space in the Alley community in 2020, to the upgrade of the Yulin East Road community party and mass service center and the front platform of the service center in 2021, to the transformation and upgrading of the Mutual Forest Shared Canteen, supporting buildings, and Yudong Garden Square in 2022. As an urban micro-renewal project, the design and function can grow with feedback and time through the phased design and use process. Nhoow Architects team formed a community scene with fuzzy boundaries through flexible design and flexible spatial layout. People of all ages, genders, and backgrounds can enjoy their favorite life while also experiencing and appreciating the lives of others, feeling friendly and beautiful together.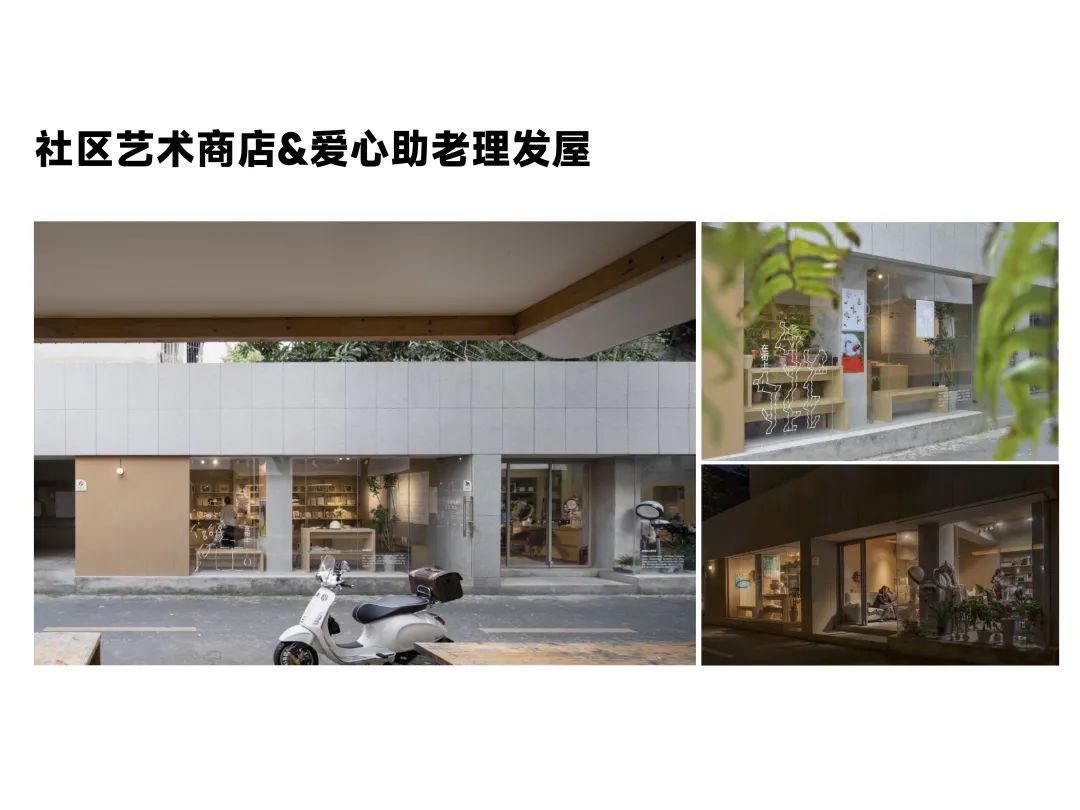 #02
Public Product Desgin

Awardee (1 person)

Selected project: "Carton Reluminance" Sustainable Environmental Lighting
Selected team: AaaM Architecture Design Studio
Review comments:
"Paper is the carrier of human culture dissemination, in modern consumption people give it more packaging function, especially in the information society, more cartons are inundated in logistics express, the large amount of discarded carton recycled application is a problem that has yet to be solved in achieving sustainable development. This project desings 'Regeneration Paper' as colorful lamps, and in the form of public art methods transfers environmental protection information, widely winning positive participation from society, forming a good interactive relationship with the consuming public, redefining the new consumption value of sharing and respect for the environment. The project theme is highly pertinent and the work is complete and its artistic and innovative aspects have provided a good demonstration for many problems that need to be solved in sustainable development."

-Dongliang Chen
Vice President of China Industrial Design Association
President of Beijing Industrial Design Center

"Regenerated paper turns into practical pieces of art, while also maintaining environmental value, while also creating a fantastic atmosphere."
-Yan Chen
General Manager of Tencent User Research and Experience Design Department
Expert Designer

Project introduction:
AaaM Architects (Architecture as a Medium) is a design and research studio established in 2015 by three young architects in Hong Kong, who have led the design of various types and sizes of architecture and design projects both domestically and abroad. In the topic of sustainable development, AaaM Architects has always been concerned with the community participation approach and the issue of spatial publicness from the bottom up, and by means of architectural design, community installations, and curatorial exhibitions, brings sustainable concepts into the public's daily lives. Through the exploration of Recycled material making from waste, such as waste to energy bags, and using it to design lamps with a strong architectural feel.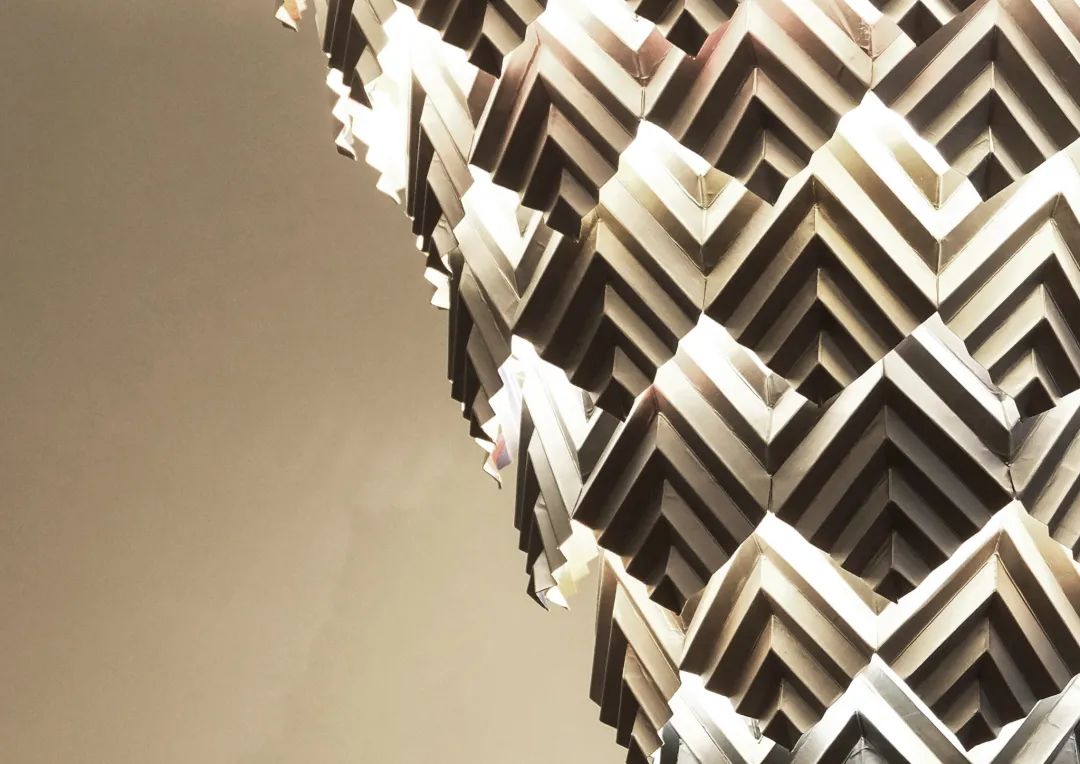 Excellent Finalists
(2 selected projects, listed in no particular order)

Selected Projects: Material Recycling and Upcycling Skincare Packaging Design, Product Replacement Packaging Design
Selected Team: Eastern Beast, He Yi, Bai Yanjing, East Inspiration Laboratory Media_Lab
Judges' Comments:
"Through design, the use of plastic in cosmetics has been reduced, and the possibility of product recycling has been provided. The design of the products is also comfortable and pleasant."
Chen Yan,
General Manager of Tencent User Research and Experience Design Department,
expert designer
"International brands are researching 'capsule replacement packaging' and 'recycled material packaging.' East Beast has turned these international concepts into practical, mass-produced solutions. This clever move uses high-end and atmospheric aesthetics to solve the problem of the beauty and daily chemical industry's large-scale plastic packaging pollution and recycling."
Zhao Wenjing,
Founder of Shanghai Plastic Ecological Transformation Co., Ltd.


Project Introduction:
"Regeneration Ceramic Design" by Dongbian Beast is dedicated to upgrading and rejuvenating waste and giving it new life by putting it back into life. In Jingdezhen, the "City of Porcelain", three to five percent of production of ceramics results in scraps and over one million tons of waste ceramics are illegally dumped in urban landfills or villages. Over ten million tons of ceramics are discarded in China every year. By cooperating with local factories in Jingdezhen, Dongbian Beast uses its "Regeneration Ceramic Technology" to upgrade and regenerate the recovered ceramics into containers for face creams (Jingdezhen White Porcelain Edition), which are made up of 90% or more recycled ceramics.
Skin Care Product Replacement Design
Given that it is not possible to completely eliminate plastic, the more practical approach is to reduce its use and provide the possibility for products to be reused. Dongbian Beast therefore proposed a solution - the replacement core model. Durable exteriors and replaceable cores, while minimizing the use of materials for the cores, and ensuring that the cores can enter the recycling system.

Selected project: MUU - Urban Solitary Bee Nesting System
Selected designer: Frank Liu

Judging comments:

"This project is quite unique. There are many ways to raise pets and create a friendly environment, but raising solitary bees is quite unconventional. As a way to promote urban ecological diversity for a niche group, it stands out. The modular design is inspired by the structure of a bee's nest and is cleverly designed with innovation. It allows for the observation of the growth process of solitary bees, allowing us to understand the endless cycle of nature and experience the impermanence of life."
He Yang,
Director of the Olympic Costume Culture Research Center at the Beijing Institute of Fashion Technology, former curator of the Ethnic Costume Museum at the Beijing Institute of Fashion Technology, and member of the China Museum Association
"The Urban Solitary Bee Project uses a simple, compact, low-cost, and replicable approach to promote ecological diversity. Bees have a lever effect on the food chain, and supporting bees is supporting the flourishing of biodiversity. The only thing I hope is that I won't get stung by bees!"
Zhao Wenjing
Founder of Shanghai Plastic Ecological Transformation Co., Ltd.
Project overview:
Solitary bees are pollinators different from honeybees, and they play a crucial role in restoring and maintaining urban biodiversity. MUU is a solitary bee nesting system designed for large cities. Based on ecological research, the design reintroduces pollinating organisms suitable for urban ecology, i.e. solitary bees, to promote urban biodiversity. The design also takes into account the importance of citizen participation, allowing everyone to use the MUU system in public spaces or private gardens and participate in the protection of urban biodiversity.
#03
Public Graphic Design

Awardee (1 winner)

Selected project: The History of Luhu Lake on the Map
Selected team: UrbanxRural

Judges' comments:

"The Lu Lake Sustainable Map is a fully three-dimensional public welfare project that can effectively mobilize people of different ages and professions to continue and inherit cultural ideas through diverse and colorful creative forms, making creation not limited to individuals and artists, and allowing cultural participants to become the subject of creation. With various forms and strong infectivity, it leaves a deep impression on people."
-Li Chao, Head of Design at Alibaba Health

"Centered around environmental protection in the community, the project links the creativity of young people inspired through "language perception," "labor perception," "painting perception," and "rhythm perception" with the environmental awareness and practices of the elderly. It not only realizes the sustainable design intention but also fully reflects the importance of games, experiences, and perception in community education."
Zuo Jing, Curator, Rural Worker, and Associate Professor at Anhui University

Project Overview:
UrbanxRural is a youth social innovation team composed of architects and social workers, dedicated to carrying out cultural creation projects in urban and rural communities. "The History of Luhu Lake on the Map - Luhu Lake Sustainable Map" is a social innovation project implemented by UrbanxRural, funded by the Luhu Lake Community Development Foundation in Chengdu. The Luhu Lake community in Chengdu is known for its rich humanistic atmosphere and beautiful natural ecological environment. However, the increasing number of tourists has also put immense pressure on the large areas of lake water and vegetation. In the community, there is a group of retired elderly people who are committed to protecting the natural environment and silently making the community environment better through their own efforts. Among them, a retired engineer from the Chinese Academy of Sciences launched the "No Littering" public welfare project in the community, a retired teacher is dedicated to removing the invasive snails, and a former rural village chief initiated a community farm in Luhu Lake... They are unknown but hold fast to their original intentions with nature. In order to better convey the concept of natural environmental protection to the young people in the Luhu Lake community and the whole society, they jointly launched the "History of Luhu Lake on the Map - Luhu Lake Sustainable Map" project. Through the interactive "game" between young people and Luhu Lake elderly people, they create a social design experimental field, allowing the concept of natural environmental protection to construct itself in the hearts of children and spontaneously grow through cross-generational interaction between the body and the mind.
Excellent Finalists
(2 selections, not ranked)

Selected Project: Qixi Ecological Community Board Game
Selected Team: Runrunstudio
Evaluation Comments:
"Community life is the most basic social gathering area. The Qixi Ecological Community Board Game project is dedicated to creating a 'healthy, beautiful, and sustainable' ecological concept, using board games to promote community cultural construction. It has a very good promotion and practicality, and has a very good role in utilizing and learning from sustainable community culture."
Guan Qi
Vice Chairman and General Manager of Beijing Forbidden City Cultural and Creative Co., Ltd.
Former Vice President of Forbidden City Press
"Using board games to inspire public welfare construction in the Qixi Ecological Community can effectively mobilize people with different professional backgrounds to participate together, and promote the effect of everyone's public welfare with a low-threshold and easy way of participation. This is not only beneficial to ecological construction, but also constitutes a cultural atmosphere in which everyone participates."
Li Chao
Head of Alibaba Health Design
"Extracting the community spirit from daily life experience, using games as a carrier, inspiring the public's emotional imagination of nearby spaces, and thus arousing exploration of local practical actions. The translation between reality and games, the integration of knowledge and action in the form of entertainment, presents the Qixi Ecological Community's appearance and sustainable living concept in a diverse and three-dimensional way."
Zuo Jing
Curator
Rural worker
Associate Professor, Anhui University
Project Description:
Runrunstudio's founder, Arun (Guo Runkun), has been exploring beauty and education in sustainable living and entrepreneurship in the Qixi Ecological Community in Zhongshan for three years. He has been nourished and supported by the community and has felt the power of sincere connections between people on the land. In the past two years, on each New Year's Day, Arun has drawn a hand-drawn map of the community, recording the process of the community's growth and changes. The Qixi Ecological Community Board Game is an extension of the hand-drawn map project in the past two years. Starting from the local life of the Qixi Ecological Community, it designs a board game that shares and promotes the practice of a "healthy, beautiful, and sustainable" life.
#04
Technology and New Media Design

Awardee (1 winner)

Selected project: "Baccus Garden"
Selected artist: Hu Yuanyuan
Judges' comment:
"Great insight! It calls for attention to the visible light of the rapid development of the city, which has invisible impacts on the environment. The project analyzes and extracts the impacts through systematic design thinking and innovative interaction between virtual and physical. It expresses its views in the form of an art design work."
-Dong Qi
Head of Tmall International Creative Design
Creative Design Expert
Project introduction:
The development of the night economy has led to materialistic hedonism, which brings many negative impacts on the ecological system such as light pollution and noise pollution. The work systematically studies the possibility of gene mutations and ecosystem construction in future plant communities caused by light and noise pollution. It simulates the pollution environment through sensor interaction and data signal visualization, simulating the mutation process and showing the form of future plant gene expression.
"Baccus Garden", created from June to October 2022, made of sound sensors, infrared sensors, light sensors, mechanical two-degree freedom claws, Arduino accessories, 3D printing resin acrylic, degradable fabrics, mechanical power components, display screens, liquid vessels, pipelines, LED lights, metal components, plastic, etc. The size of the work is 100cm100cm100cm. Image source: Hu Yuanyuan. Swipe left and right to browse all project introductions.
Excellent Finalists(2 winners, ranked in no particular order)

Selected project: Chaos · Fluid Consciousness
Selected artist: Hu Yu
Judges' comment:
"The starting point of the work has a humanistic spirit. Technology is always more than just efficiency, it should be a new way to help us better understand and care for ourselves. As the German philosopher Kant said: man is not a tool of anyone, but the goal of oneself."
-Dong Qi
Head of Tmall International Creative Design
Creative Design Expert
Project introduction:
The project developed a flexible EEG brainwave monitoring headband based on biological materials and a human-machine interaction system. It helps people relieve mental stress in a more comfortable and interesting way, pay more attention to themselves, and fill the gap caused by the lack of intimate personal attention and interaction in the background of the pandemic. The project visualizes people's emotional states through a dynamic interactive device. Integrating neuroscience and textile technology, using the audience's brainwave data as input, each kind of brainwave data is expressed with a liquid color. People can control the liquid screen's patterns (the flow rate of the liquid) through thinking, meditation, and other different consciousness states. These liquid-flowing pipelines are like the "external blood vessels" of human beings, giving users real-time feedback on space outside the body, and at this moment, people and fabric seem to be symbiotic living beings.
Selected project: Trash Taker
Selected team: Da Gong Ren (working people)
Judges' comment:
"The work is pragmatic, systematic, and sustainable. It reduces energy consumption and human resources by using natural energy to recycle marine pollution. The design thinking system and the work presentation are complete."
-Dong Qi
Head of Tmall International Creative Design
Creative Design Expert
Project introduction:
The Pacific Ocean contains 9 million metric tons of plastic waste, some of which flows into surrounding ports with ocean currents, posing a threat to the ecological environment of the ports. The government has to spend a lot of manpower to clean up the surrounding garbage.
This project utilizes natural ocean currents and waves generated by fishing boats for garbage collection, without the need for electricity. The collected ocean plastic waste is made into modular products that can be adapted to different types of ports.
#05
Youth x Creative Eco Design
Awardee (1 winner)

Selected project: "Prayer Wind Chimes"
Selected team: Students from Suomahua Primary School

Judges' comments:

"This project is the most basic and sustainable practice. Starting from the surroundings, making the most of the materials, and combining local and ethnic characteristics, it enhances the charm of sustainability and is worth encouraging."
He Shengmin
CEO of OneWaySpace
Project introduction:
Suomahua Primary School is one of the key public welfare projects of Sichuan Azalea Charity Foundation, located in the mountainous area of Xichang City, Liangshan Yi Autonomous Prefecture, with an altitude of 2100 meters. It is a pure public welfare primary school with 157 students. The school's educational philosophy is "nurturing love and talent with love."
During their free time, the students used discarded egg packaging to make wind chimes, painted them with the three primary colors of the Yi ethnic minority: red, black, and yellow, and wrote blessings on them. No matter what situation they are in or how the times change, they will never give up their pursuit of a better life.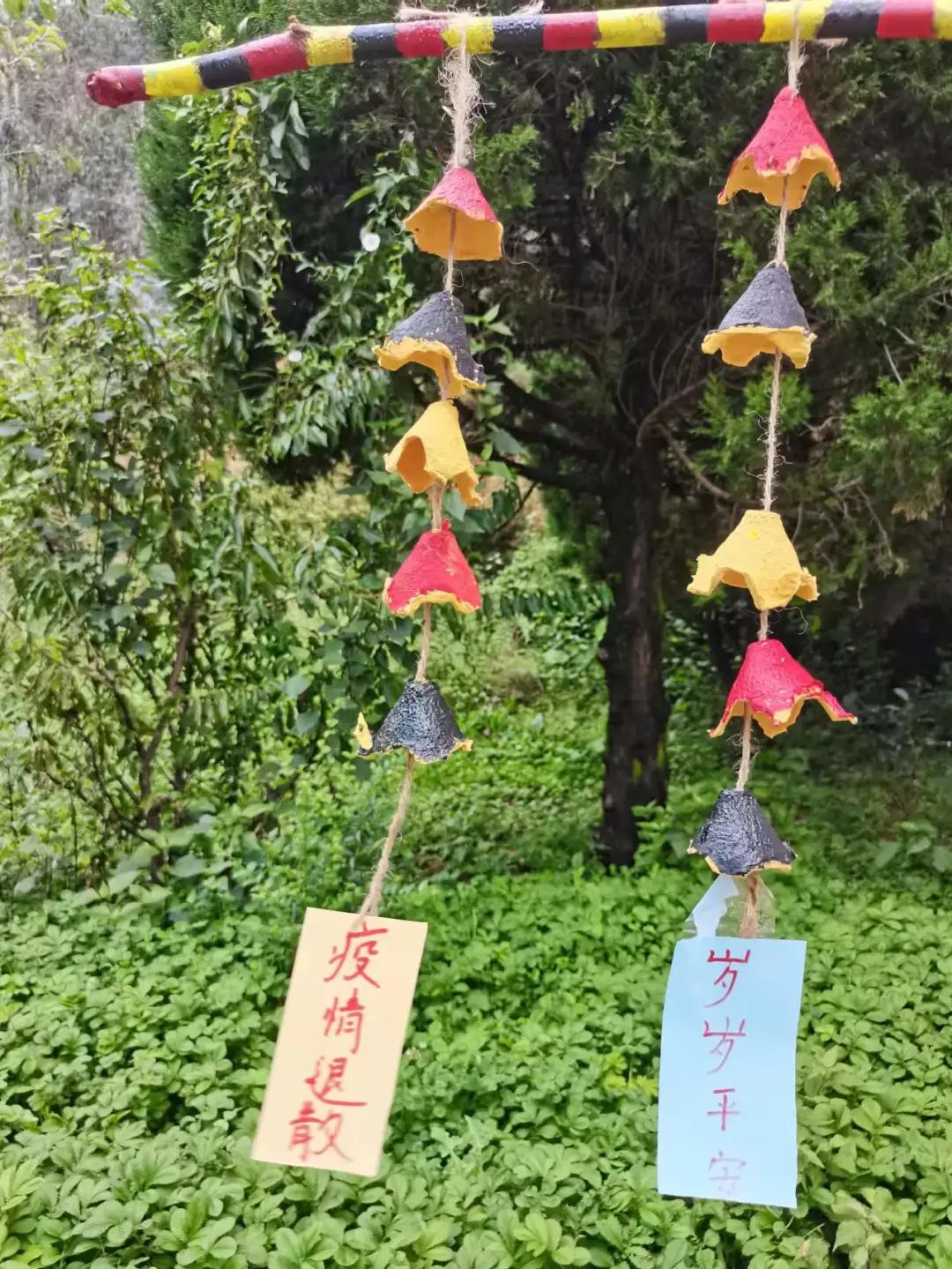 Excellent Finalists
(2 winners, not ranked)

Selected project:
"Plastic Can't Be Garbage, Life Goes On" - Green Environmental Education Theme
Selected team: Environmental Protection Team of Hunan Normal University
Judges' comments:
"This plan pays attention to social reality. It not only has specific implementation objects but also has a complete implementation plan. The applicant has fully considered project research, problem analysis, project execution, and promotion."
He Shengmin
CEO of OneWaySpace
Project introduction:
Where does garbage come from and where does it go? The Environmental Protection Team of Hunan Normal University, in collaboration with Changsha Waste Incineration Power Plant and Chengdu Shani Community, customized an online and offline, theoretical and practical garbage classification theme education activity for primary school students, using "Buke Xi" as the focal point. Students observe the "transformation of garbage" during the weekend factory tour, experience the technological elements and humanistic care of garbage disposal, and connect with environmental entrepreneurs online to explore the past and present of "Buke Xi." "I give garbage classification" goes from the classroom to life, becoming a faithful practitioner of environmental protection and public welfare - let old things cycle, and let life continue.
Selected project: Pedestrian Little Eye
Selected individual: Ding Dehao

Judges' comments:

"Although this plan deviates from the concept of 'sustainability' to some extent in terms of theme, it also focuses on vulnerable groups in society and creatively provides a design solution. Although there may be some difficulties in specific implementation, the spirit of innovation is worth encouraging."
He Shengmin
CEO of OneWaySpace

Project introduction:
The designer is an 11-year-old child from Shenzhen, who loves life, likes to think and solve problems, and pays attention to technology and humanities. He loves to work with his hands and creates various works using various materials in life. It is difficult for traffic police to manage the chaotic electric vehicles, which requires a lot of manpower for supervision. With the increasing number of electric vehicles, the young designer designed a robot police officer to manage pedestrian walkways and electric vehicles - Pedestrian Little Eye. It is set up at every intersection, can shoot, track, and remind electric vehicles, collects stubbornly chaotic electric vehicles for big data analysis and archiving, and provides targeted education and governance by traffic police.