Opening Review | You See We Feel
Design and art are often simplistically understood as a visual aesthetic of products or works. In China, 16.91 million people are not "seen" by this "visual-centric" world. They walk on broken sidewalks without tactile paving, struggle to obtain complete information from product packaging, and see only blurred shapes, textures, sounds, or faint light spots in their world. "You See We Feel" attempts to present two parallel lives based on different senses, with objects, images, and sounds all attempting to show a world composed of non-visual senses. Daily trivialities mixed with distress, pleasure, pain, and suppressed desires enter their world through the touch of textures and echoes of sound.
We hope this exhibition will bring more reflection and inspiration. Everyone has accessibility needs, and everyone will have special circumstances. When you can no longer see the name of a product, cannot walk with your legs, or cannot hear what others are saying... what kind of support do you want?
Exhibition Overview
The "You See We Feel - Be the Light of Your World: Blindness Exhibition for Public Welfare" is planned by the Alibaba Health Design Team, hosted by Alibaba Foundation, and jointly held by Alibaba Health, Beijing Contemporary Art Foundation, and the Danish Cultural Center. This exhibition focuses on the barrier-free design for the visually impaired community, which originates from the "Be the Light of Your World" project initiated by Alibaba Health Design. It builds a bridge of communication for the visually impaired community by designing and developing the first Chinese Braille phonetic library. This exhibition aims to use art to present the life situations of visually impaired people, thereby calling on the public to recognize how public welfare and barrier-free design can make our world more inclusive.
Exhibition Scenes
On the afternoon of March 10th, the "You See We Feel - Be the Light of Your World: Blindness Exhibition for Public Welfare" officially opened at the Danish Cultural Center. Attendees at the opening ceremony included Eric Messerschmidt, Director of the Danish Cultural Center; HE Mr Thomas Østrup Møller, Ambassador of the Kingdom of Denmark to China; He Chuan, Vice Chairman and Secretary-General of the China Association of Persons with Visual Disabilities, Chairman of the Beijing Association of Persons with Visual Disabilities; Prof. Shahbaz Khan, Director of the UNESCO Beijing Office; Huang Shan, Supervisor of the Beijing Contemporary Art Foundation; and Li Chao, head of Alibaba Health Design, all of whom gave speeches.
#01
Opening Ceremony Recap
As the host of the opening ceremony, Eric Messerschmidt, the Director of the Danish Cultural Center, first introduced his appearance and clothing features and expressed his respect for the visually impaired people present with a humorous opening remark. In his speech, he affirmed the significance of this event for the United Nations' Sustainable Development Goals, demonstrating how culture can raise public awareness and provide solutions for those dedicated to improving living conditions.
HE Mr Thomas Østrup Møller, Ambassador of the Kingdom of Denmark to China, deeply empathized with the current situation that visually impaired people may encounter in society in his speech, and expressed the belief that all disabled people should have equal opportunities in society, acknowledging the contribution of this exhibition to a more inclusive society.
Prof. Shahbaz Khan, Director of the UNESCO Beijing Office, mentioned in his speech the importance of universal design and the provisions of the United Nations Convention on the Rights of Persons with Disabilities, which are also the important significance of this exhibition.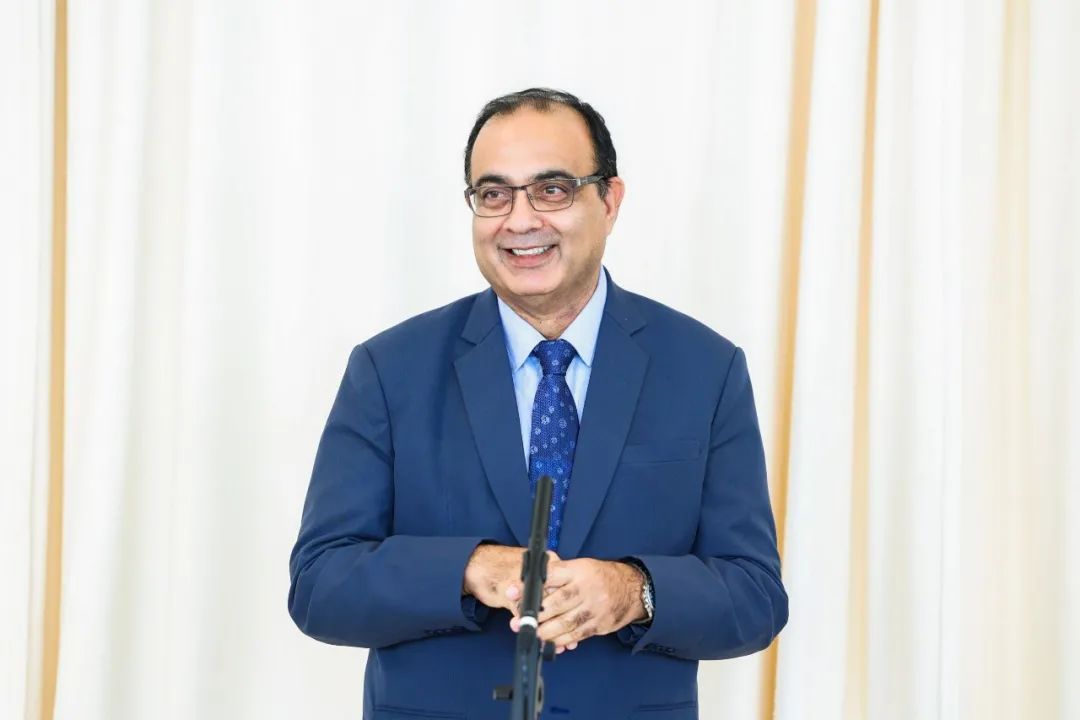 He Chuan, representing the China Association of Persons with Visual Disabilities, expressed congratulations on this exhibition and gratitude to Alibaba Health for its attention to the blind community in this exhibition.
▲ Vice Chairman and Secretary-General of the China Association of Persons with Visual Disabilities, and Chairman of the Beijing Association of Persons with Visual Disabilities, He Chuan, gave the opening speech.
Ms. Huang Shan, the supervisor of the Beijing Contemporary Art Foundation, mentioned that this exhibition aligns with the foundation's mission and vision. The foundation served as a bridge and link in presenting the exhibition together.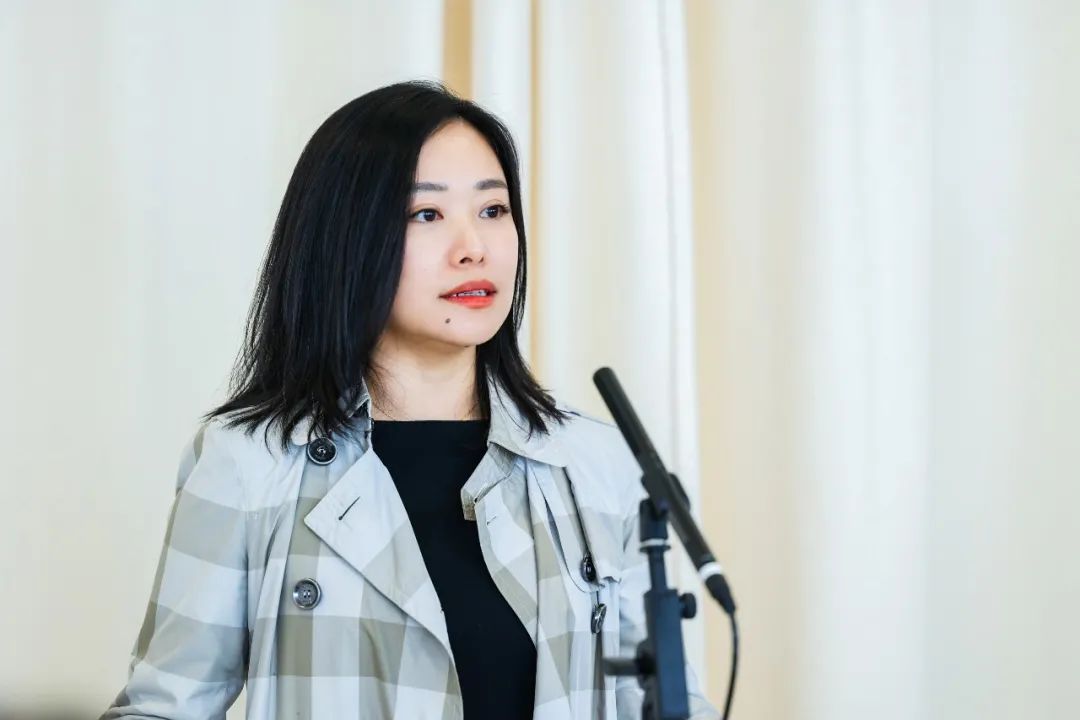 ▲ Ms. Huang Shan, Supervisor of the Beijing Contemporary Art Foundation, giving the opening speech
At the end of the speech event, Li Chao, the person in charge of the design team at Ali Health and also the creator of the works in this exhibition, as the initiator of the exhibition, elaborated on the original intention of the barrier-free design of the Ali Health font and officially announced the free cooperation of Ali Health font for public welfare.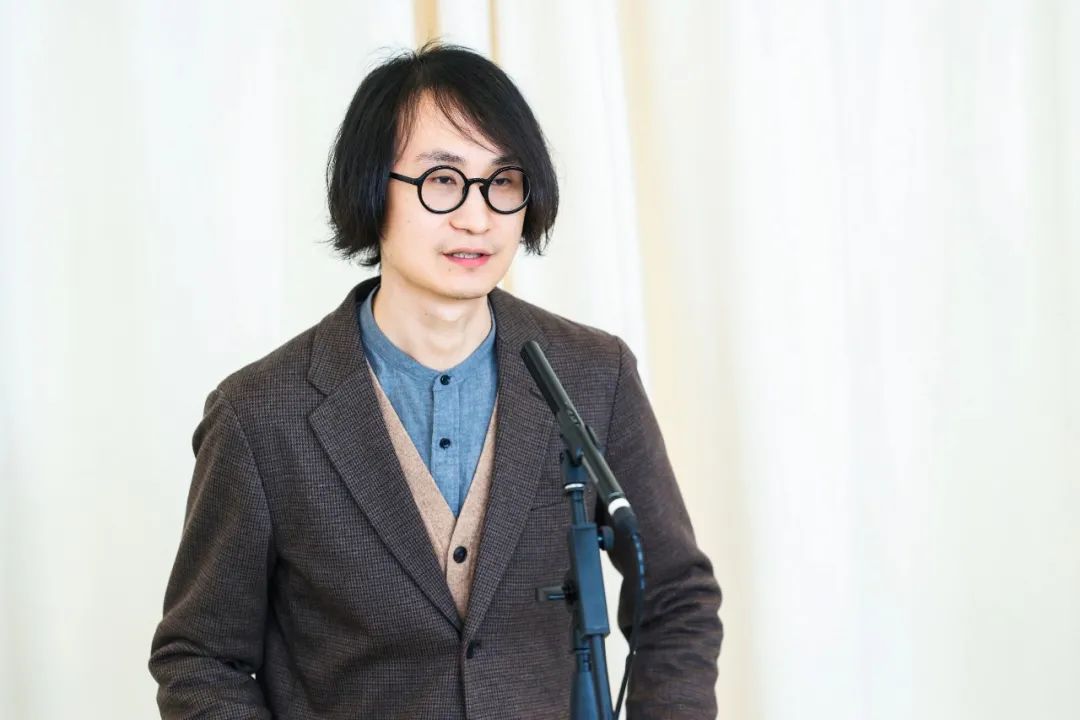 ▲ Li Chao, the person in charge of the design team at Ali Health, the initiator and creator of the exhibition, giving the opening speech
After the guest speeches, Li Chao conducted a guided tour of the exhibition, and all the guests gave positive feedback on the presentation and quality of the exhibition.
▲ The opening guests visiting the exhibition under the guidance of designer Li Chao
#02
Walking hand in hand in daily life
The theme of the first forum event is "Walking Hand in Hand in Daily Life," hosted by Hu Fei, Secretary-General of the Beijing Contemporary Art Foundation. Several guests participated in the forum, including Cai Cong, a doctoral student at the Chinese Academy of Social Sciences, a director of the Shanghai Youren Public Welfare Foundation, and a photographer; Bu Wei, a professor at the Chinese Academy of Social Sciences; Tao Yong, director of the ophthalmology department of Beijing Chaoyang Hospital and initiator of the Blindness Prevention Project; Wu Liqun, a user experience expert of the Expert Committee on Accessibility Research Association; and He Yajun, a blind masseur and founder of the Assistance for the Blind group. The forum mainly discussed the perspective of caring for the blind in their daily lives, infrastructure design, and medical care. The following is an excerpt from the forum speeches.
▲ Hu Fei, Secretary-General of the Beijing Contemporary Art Foundation, hosting the forum
Cai Cong: When I was a visually impaired student, I was often asked, "If you can't see, how do you learn?" Although I didn't have any other means of communication, I and my teachers could complete our learning well through interaction with other senses. With the popularity of PPT, I gradually realized that people have ignored many important means of communication, especially those beyond visual communication. Recently, in the process of writing papers and giving lectures, I found that many classmates could easily complete these tasks, while I couldn't quickly take some things out and put them on PPT like they did. This made me start to think, is it more valuable to truly internalize these things into life experience than to use PPT? This also inspired me to explore the connotations behind cultural, visual, non-visual, and Braille cultures, hoping to provoke more people's thoughts. I don't have a definitive answer yet, but I have been studying this issue.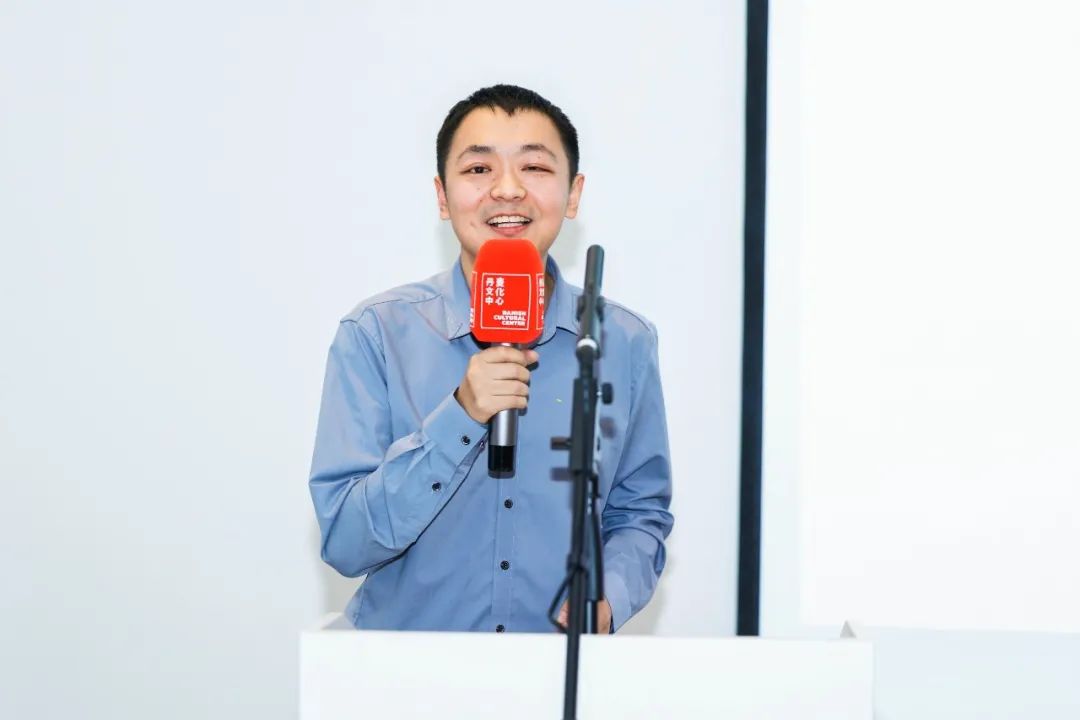 Bu Wei: I am very grateful for Cai Cong's invitation and feel fortunate for our teacher-student relationship. On different occasions, I often mention the term "bidirectional integration". Today, the exhibition we are discussing and the ongoing Body·Matter·Festival both involve four key words: body, visibility, the right to representation, space, and bidirectional integration. In this exhibition, these four key words are well reflected.
Bidirectional integration not only exists in the field of art. When we discuss how migrant workers can integrate into urban civilization, or whether we need to pay attention to the countryside, it also involves the relationship of bidirectional integration. Similarly, the relationship between disabled and non-disabled people also requires bidirectional efforts. The prerequisite for bidirectional integration is equality, which can only be achieved on an equal basis.
For disabled people, only through the process of bidirectional integration can they truly become an organic part of society rather than being marginalized. Therefore, care and assistance from the top-down cannot completely solve the problems faced by disabled people. Only through the process of bidirectional integration can the difficulties faced by disabled people be better solved.
▲ Bu Wei, Cai Cong's doctoral supervisor and professor at the Chinese Academy of Social Sciences, speaking at the forum.
Tao Yong: Today, I would like to introduce to you the conception and implementation of the "51light". The reason why I proposed such a plan is because I am an ophthalmologist. So far, my surgical volume has exceeded 15,000, but I still feel that there are many problems that we ophthalmologists cannot solve, whether it is genetic eye diseases or severe eye injuries, malignant tumors, and so on. In the end, we can only send patients to the other side of the bridge. If the current technology cannot help them improve their vision, they can only walk forward alone.
Therefore, we hope to build a seamless bridge between medical care and visually impaired public welfare, so that the next time a patient comes to seek medical advice, we can say, "Although I have no drugs or surgical methods, we still have other ways." The 51light project, on the one hand, helps them through psychological care, life rebuilding, vocational training, and employment guidance, forming a public welfare micro-circulation. On the other hand, we hope to use technology and popular science to help people better protect their eyes and stay away from factors that cause vision loss. By developing more equipment and products, people with low vision can approach normal vision, and the blind can get more brain-supplemented visual information through electronic aids.
▲ Tao Yong, Director of Ophthalmology at Beijing Chaoyang Hospital and founder of the "Blindness Plan," spoke at the forum.
Wu Liquan: Is Braille the only solution? Many young visually impaired people no longer learn Braille, or have never learned it because they have not attended special education schools. They may not be familiar with the educational methods of Braille. Nowadays, there is a better form called screen reader software. It can read the content on the screen and give you some reminders as you interact with it. The convenience of this form is very high. Of course, in my opinion, it is a complementary relationship with Braille, rather than a replacement for it.
The printing cost of Braille, including the popularity of Braille, is relatively low until now, and many people may still have not seen it. This is also the biggest significance and value of holding this exhibition today.
My organization, the Information Accessibility Research Association, started to work on information accessibility in 2005, but at that time, it was only about teaching blind people how to use information better to help themselves in their daily lives, learning, and work. The method is to teach them to use computers so that everyone can be relatively proficient in using computers and the internet. Until 2013, we discovered a cruel fact. Even if we teach many people to use computers, everyone still cannot access internet services smoothly and conveniently because we found that although everyone can use computers, the platforms are not accessible, and even few internet products are aware that blind people are also their user group. Therefore, we began to shift from teaching blind people to use computers to working on raising awareness of accessibility and optimizing products for enterprises. We are still working hard on how to help companies achieve accessibility for their products.
Alibaba was one of the earliest companies to participate in accessibility action. As an important member partner, they have done a lot of work on information accessibility, such as using Alipay to enable millions of visually impaired people who find it inconvenient to use paper money to use electronic payment forms, making transactions very convenient, and avoiding situations where they have to throw a bunch of money to the salesperson to test their honesty. In addition, we have done a lot of work related to information accessibility on clothing, food, housing, and transportation with corresponding service platforms. In fact, the goal is only one, hoping to have a relatively accessible online environment for everyone to enjoy modern civilization equally through technology before Braille is further popularized or before our infrastructure is well supported with accessibility.
▲ Wu Liquan, User Experience Expert of the Expert Committee of the Accessibility Research Association, spoke at the forum.
He Yajun: You may not believe it, but although I cannot see at all, after I came to Beijing to work as a masseur, I have a house and a car. Massage is a good profession. Actually, many people do not know that blind masseurs in China create a performance of more than 10 billion yuan nationwide every year. Everyone may think that this job is not good, but it provides a good life for millions of blind people. As for blind running, many people think it is difficult or impossible to do, but it is not. In fact, there are many successful cases of blind running now.
▲ Blind masseuse and founder of the Helping Blind Group, He Yajun, gave a speech at the forum.
# 03
Theme of Humanistic Care in Creation
The theme of the second forum of the exhibition is "Humanistic Care in Creation." We are honored to invite Hans Jørgen Wiberg, founder of the "Be My Eyes" blind community public welfare assistance app, urban planner Mao Mingrui, and young composer, pianist, and organist Dai Bo to discuss the humanistic care for the blind community reflected in technology and art.
Hans Jørgen Wiberg: Good afternoon, everyone. It should be afternoon in China now, and morning in Denmark where we are. I am very happy that you can hold such an exhibition and forum specifically to focus on visually impaired people and understand what life is like for visually impaired people in China. As you know, the Be My Eyes app I created is available on Android and Apple phones. In fact, this app is very simple. It is based on real-time video connections and interactions, connecting visually impaired friends from all over the world with normal volunteers. As you know, there are many visually impaired friends around the world who need eyes to help them observe the world. Sometimes they may only need a few seconds to help them press a button, so we need such volunteers with normal vision to help them operate.
For example, a visually impaired friend in the kitchen wants to find something or wants to find food in the refrigerator. He can open the app, and our volunteers will tell him that this is a potato, this is cola, or anything else he wants to pick up. This app provides free services to everyone and has more than 180 languages of volunteers online. The reason I developed this application is due to myself. I am also a visually impaired person, and Denmark is a small country with a small population, so I have always been committed to the internationalization of this software, hoping that such a friendly software can benefit visually impaired friends around the world.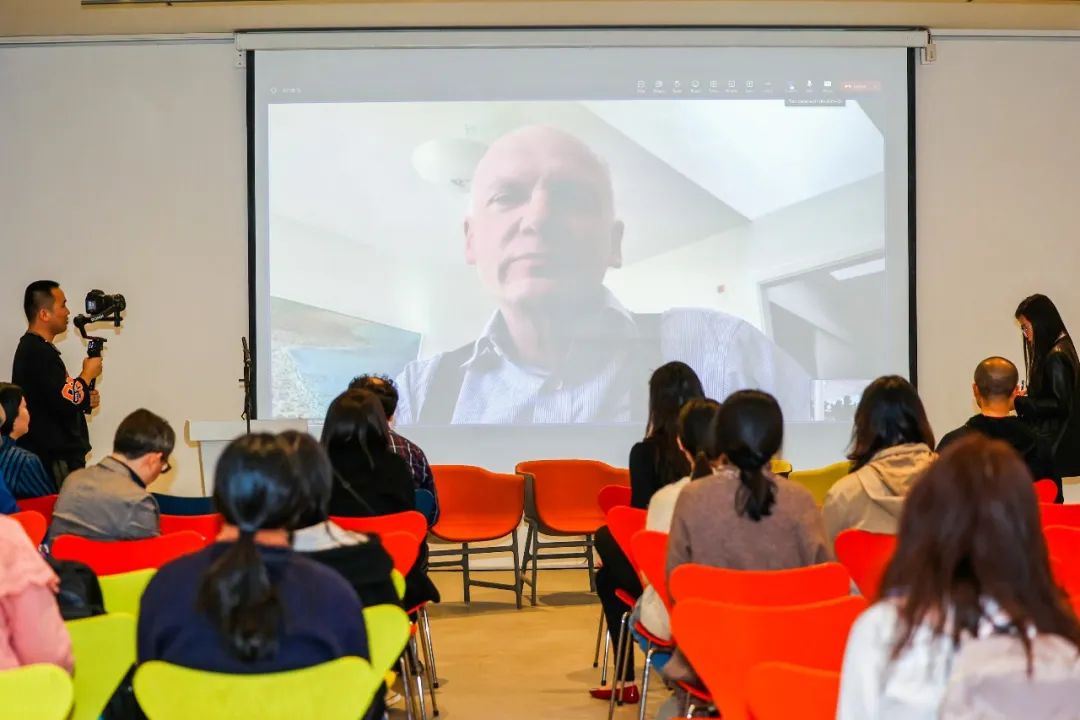 Mao Mingrui: Actually, I am not a researcher without barriers. I am currently working on "Citizen Technology." This concept is actually not spoken by many people in China. It is a series of basic innovations based on social participation to solve urban problems or social problems generated in the era of mobile Internet. I actually have some perceptual barriers, and my sense of smell has been lost for 20 years. So I am more enthusiastic about how to solve accessibility issues than ordinary people. On World Blind Day in 2019, we organized an activity for blind children and adults to walk along a designated one-kilometer road. Through shooting and analyzing their walking process, we tried to understand the problems visually impaired people face when traveling on urban roads and the difficulties that able-bodied people face.
This image shows which radar-reflected obstacles they encountered during their walk, with deep red representing particularly dense obstacles. This can help us understand what problems there are in the accessibility construction of the city.
In 2020, Beijing will improve infrastructure for the Paralympic Games. At that time, we hoped to find some sponsors to produce a blind cane with radar waves and tell the Beijing Municipal Government through behavioral data what problems visually impaired people may face if they use limited funds.
▲ Urban planner Mao Mingrui speaks at the forum.
Dai Bo: First of all, we need to understand one thing, that as a blind person in the learning process, their similarities with normal people must be more than their differences. We should discuss based on this issue, and then consider all the differences, rather than starting with the perspective that they are a different person, an outsider.
In addition, I have found that there are many more blind children learning music now than when I was young, but there is a very big misconception in their learning, which is very common, that is, the absorption of blind cultural knowledge is very unbalanced. They seem to be developing towards becoming an artist who can operate, rather than a person who receives a comprehensive education. There are many reasons for this, including the blind themselves, their families, and so on. What can be done at the social level? I think there are two points:
The first is related to the cultural education of the blind, which can still be further promoted. I think that first of all, whether it is in the application software of specific industries or actual operation software, accessibility adaptation is still not done well. The second is that many educational resources have not yet been made accessible electronically, which will result in blind people falling behind in academic research.
▲ Young composer/pianist/harpsichordist, PhD in composition, and teacher in the Composition Department of the Central Conservatory of Music, Dai Bo speaks at the forum.
#04
We are each other's light
▲ "We are each other's light" forum exchange scene
The third forum event, with the theme of "We Are Each Other's Light", saw three designers discussing the role of design in social welfare and promoting design accessibility, as well as the difficulties and gains in the design and production process. The following is an excerpt from the forum speeches.
Li Chao: When I was doing this design, there was a particularly small story that moved me. It was a comic called "Seeing and Not Seeing". There was a child who traveled through the universe and arrived on an alien planet, where the aliens had three eyes on their faces. The Earth child only had two eyes and couldn't see behind him, so the aliens sympathized with him and thought he was really pitiful. "We want to help him! We want to show him the way..." But the Earth child said he didn't need it. He just wanted to turn around and see what was behind him! As a result, he became good friends with a disabled alien who couldn't see with his eyes behind him. The point that touched me about this story is that not everyone needs to "see". Just like someone who is tall and someone who is short, the tall person can see the world outside the wall, and the short person can see the cat under the cabinet. Each has their own strengths, and there is no superiority or inferiority. Therefore, the starting point for many things we do is universality, not from one extreme to another. The reason why many products we commonly use have such a long lifecycle is because of this. Whether it is designing or urban planning, there is a shared idea of universality. Universality is a shared and equal thing, and this is very meaningful.
▲ Li Chao, Head of Design at Ali Health
Zhang Han: As a designer, I think it's important to have a strong sense of empathy, or as a characteristic of this profession, you need to be able to empathize with the experiences of others, including your own life experiences. These valuable experiences can be translated into empathy for visually impaired individuals, such as imagining how a visually impaired person would feel when receiving their college acceptance information for the first time. I searched for information online and found that China only had a Braille test paper for blind candidates for the college entrance examination in 2014. Last year, there were over 10 million candidates in China, but only eight were visually impaired. I also looked at their test papers, which were very complex and astounding to me. So I can understand even better that it is very difficult for a family and society to cultivate a child with visual impairment who understands physics, English, and Chinese, and who can take the college entrance exam, and the effort and time he himself has to put in is beyond that of an ordinary person.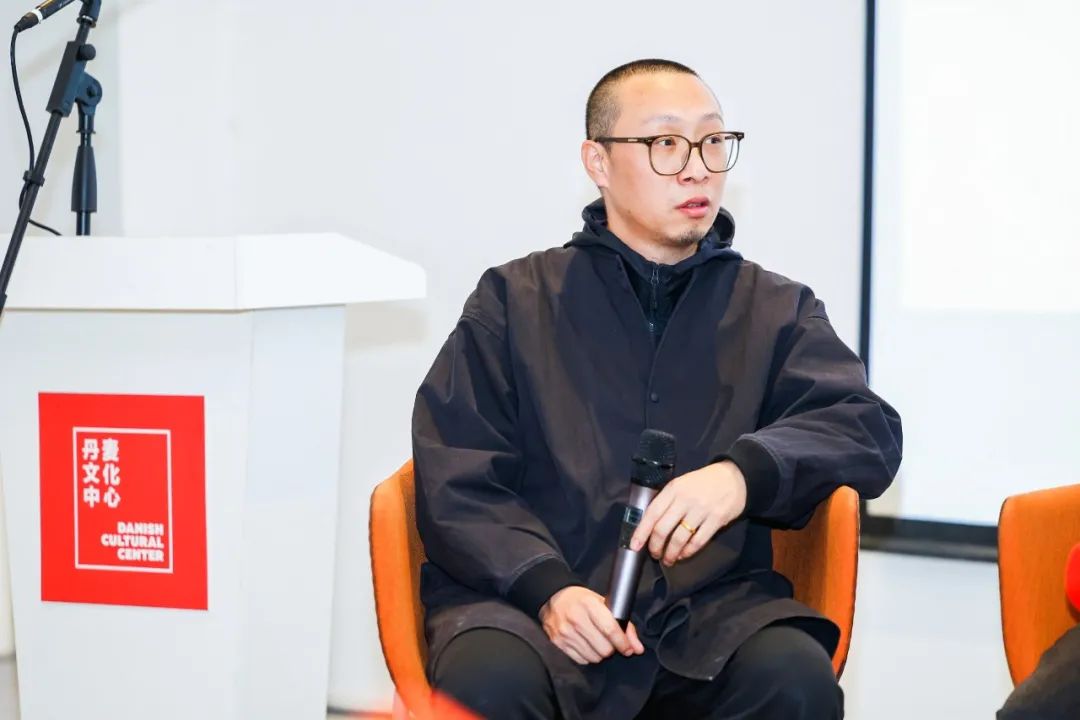 ▲ Zhang Han, Founder & Creative Director of 20000 Days Studio
Ma Shirui: Actually, what impressed me the most about coming here today was when one of the guests mentioned "mutual understanding and communication." Mutual understanding and communication may be what people need. Humans are social animals. Sometimes we may feel that those who say goodbye to modern civilization and live alone in the mountains are particularly worthy of attention, even with a bit of a voyeuristic eye, because they are disconnected from society, which goes against our nature. We need to work together and cooperate in order for humans to reach a natural state of survival.
"Mutual understanding and communication" made me think that it doesn't necessarily have to be between small groups. Even two people can have the idea or need to want to understand others and be understood by others. I also do some design work for rural construction projects, and I also encounter the problem of differences between contemporary design and local life. How can our fancy designs work in the local environment? We should also understand each other in a mutual way, just like mutual understanding and communication. I was greatly inspired by what I learned today.
▲ Ma Shirui, Co-founder of typo_d Graphic Design Studio