Coca-Cola China "Rainbow Sunglasses"
Beijing Contemporary Art Foundation (BCAF) is proud to announce young artists, Li Wei and Lu Yang, for their Coca-Cola China photoshoot project Rainbow Sunglasses. Each Sunglasses is made of rPETG recycled from two Coca-Cola bottles. The Sunglasses are available in red, orange, yellow, green, blue and violet.

BCAF will continue to work with Coca-Cola China and artists to explore innovative recyclable design in the future. Together, we will discover the "differences" and uncover the "potential" in the world.
The artist, Li Wei, with Rainbow Sunglasses
"Homo sapiens aren't as wise since we create more issues than solutions. We must stop harming each other. Born of the same root, why torment each other so cruelly?"
——Li Wei
The artist, Lu Yang, with Rainbow Sunglasses
" In my works,I've always try to remove the labels that society places on us. I hope we can all be an independent individual living in this universe."
—— Lu Yang
"Beauty is born from inspirations and maturity."
——Lu Rongzhi
"The most important quality of being colleague is to respect and preserve our differences."
——Lao Bo
"Even the photographer says that I do not look like a wedding dress tailor! : )"
——Da YingJun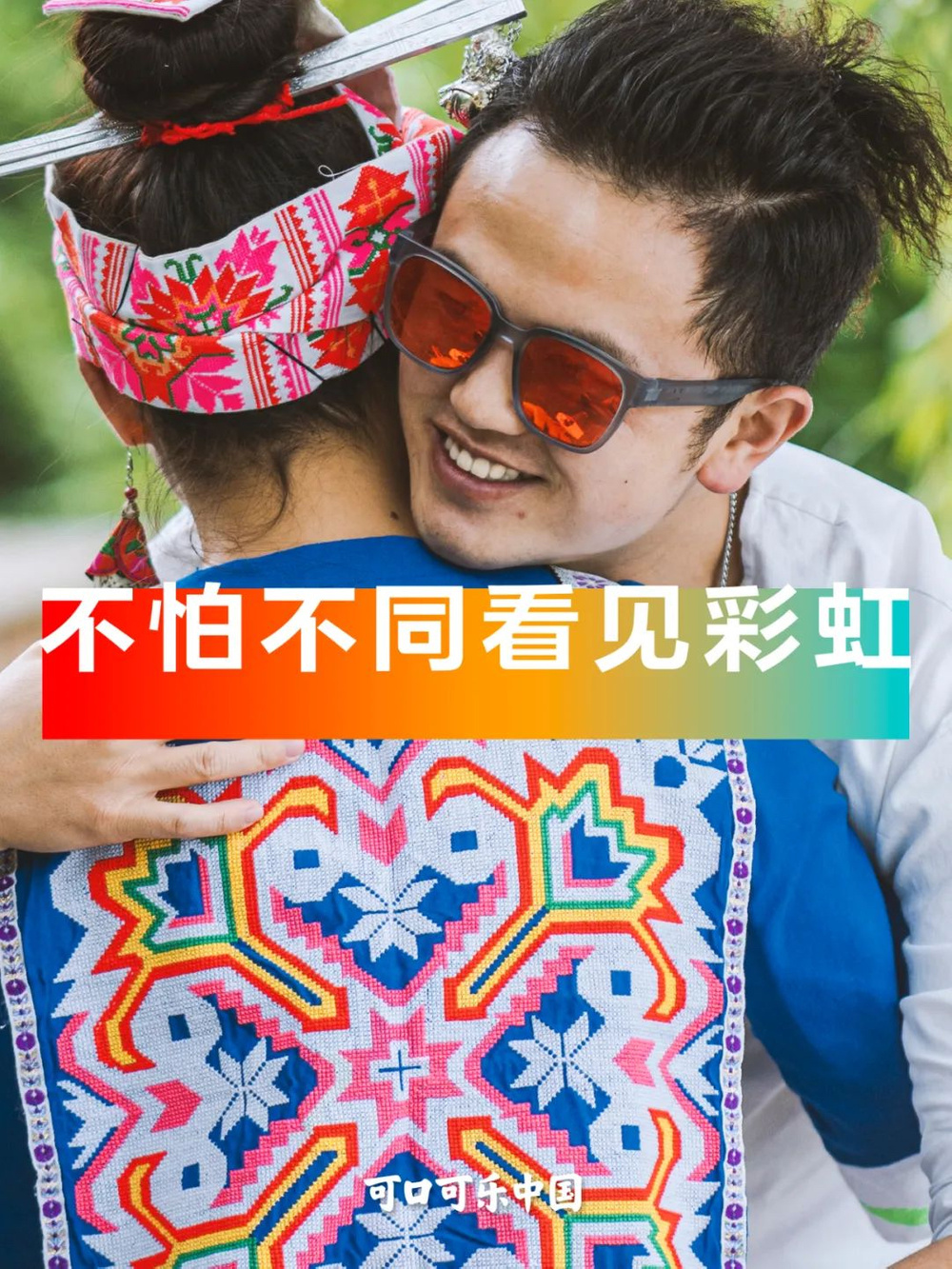 "It was only until now that I realized the colors I've been searching for are in my childhood hometown"
——A Ping Love Poppin
"People look at others through prejudiced lens, not their eyes!"
——Motorcycle Girl Candy
Li Wei

Li Wei was born in 1981 in Beijing and graduated in 2007 from the Third Studio of the Sculpture Department at CAFA with a Bachelor's Degree. Li now lives and work in Beijing.

Li has held many solo exhibitions including Fairy Tale at Tang Contemporary Art (Beijing) in 2020; Hearsay & Spring at Pro Helvetia (Winterthur) and Cellar and Garret at Klrin Sun Gallery (New York) in 2017; Secure for Now at Studio9 & X Gallery (Hong Kong), F2 Gallery (Paris) and Primo Marella Gallery (Turin) in 2016; Still Nobody Cares at A2Z Art Gallery (Paris) and Nobody Cares at Red Brick Art Museum (Beijing) in 2015; Peace at Primo Marella Gallery (Milan) in 2014; Thank God at BalleryYang (Beijing) and Confessional at A2Z Art Gallery (Paris) in 2013; Hero at Today Art Museum (Beijing) in 2013; Unpeaceful Christmas Eve - "A Block of Cake" at Copy Café (Beijing) in 2010; The Hollow Men at Hand Art Gallery (Beijing) in 2009.

Li Wei has also been invited to participate in 2014 Asia Triennial Manchester and 4th Guangzhou Triennial 2012, and exhibit at Rietberg Museum, Mülheim Museum, Lille Art Center and Today Museum. The artist's works have been added to many public art institutions' collection including the DSL Collection (Paris), White Rabbit Gallery (Sydney), Foundation Louis Vuitton (Paris) and Patrizia Sandretto Re Rebaudengo (Turin).
Lu Yang

As a multimedia artist, Lu Yang's works revolve around themes such as mortality, androgyny, hysteria, existentialism and spiritual neurology. Taking inspiration and resources from animation, video gaming, and science fiction subcultures, Lu produces his fatties through mediums including 3D animation, immersive video game installation, holographic, live performances, virtual reality, and computer programming. Lu Yang engages in collaboration on a regular basis with scientists, psychologists, musicians, producers, dancers, celebrities, robotics companies and other professionals from different fields.

Lu has attracted much attention and gained international acclaim from the art community. The artist has held solo exhibitions at UCCA Center for Contemporary Art, M WOODS Beijing, Cc Foundation Shanghai, Spiral Tokyo, Fukuoka Asian Art Museum, Société Berlin and MOCA Cleveland. Lu has also participated in several international biennials and triennials such as 2018 and 2012 Shanghai Biennial, 2018 Athens Biennale, 2016 Liverpool Biennial, 2016 Montreal International Digital Art Biennale, China Pavilion, the 56th Venice Biennale, and 2014 Fukuoka Triennial. In 2019, Lu became the 8th BMW Art Journey winner and begun his latest digital reincarnation project, DOKU. In 2020, Lu has been invited to join the "Neurons, Simulated Intelligence" exhibition at Centre Pompidou Paris.