Keeping traditional craftsmanship is a must for us
Since its establishment, the Beijing Contemporary Art Foundation (BCAF) has been supporting and collaborating with various ethnic groups in China to promote new folk crafts. In March 2022, BCAF partnered with "VOGUE China" to launch the "Keeping Traditional Craftsmanship" project as part of the "New Folk Craft Series" in China. After nearly half a year of communication, planning, and coordination, BCAF successfully facilitated collaboration between ethnic craftspeople and renowned designers from China and abroad. This was a bold and interesting attempt, and the participating craftspeople expressed interest and approval for this innovative collaboration, which revealed more possibilities and directions for the development of Chinese traditional crafts. Let's enjoy the exquisite creations of these craftspeople and designers together!
Actress Li Bingbing dons MING MA X and appears on the cover of the November issue of Vogue China.
"VOGUE China" has always been committed to incorporating the spirit of sustainability and diversity into its storytelling with an innovative perspective, embedding fashion and cultural development. The newly launched "Keeping Traditional Craftsmanship" project this year invited renowned fashion designers and brands to team up with various craftspeople or groups from all over China, using traditional crafts as the theme to bring unique interpretations. By integrating international perspectives and local crafts, the project showcases and inherits Chinese culture from a modern perspective through works that combine tradition and modernity.
The "Keeping Traditional Craftsmanship" project is specially supported and recognized by the UNFCC Fashion Charter . The UN Fashion Charter for Climate Action, released at the 26th Conference of the Parties (COP26) to the UN Fashion Charter for Climate Action, clearly aims to achieve carbon neutrality in the fashion industry by 2050 and strive to keep global warming within 1.5 degrees Celsius. Everyone and every organization in the fashion industry is working tirelessly towards this goal.
For over half a year, the project has spanned thousands of miles and you can see the profound meaning behind bamboo weaving, the exquisite and unique Nanjing Cloud Pattern Brocade, the dazzling Yi silver jewelry, the vibrant Shangdang Duijin Brocade, the rustic and simple Kandao cloth, the vibrant MING MA X Xilan Capu, the rainbow-like colorful Dulong ethnic weaving, the historic Fujian lacquer, the intricate Chengdu silver flower silk, the rustic and modern Dong ethnic embroidery, and the magnificent gold and silver fine work, all brought to life by the collaboration between designers and craftspeople. This is only the beginning, and in the future, we will continue this project and mission, become a cultural bridge, support the development of traditional crafts, and let the world see the rich and diverse traditional crafts of China, shining with timeless glory.
#01
Gabriela Hearst
X
Dulong ethnic minority handwoven carpet
— Weaving a rainbow on the body —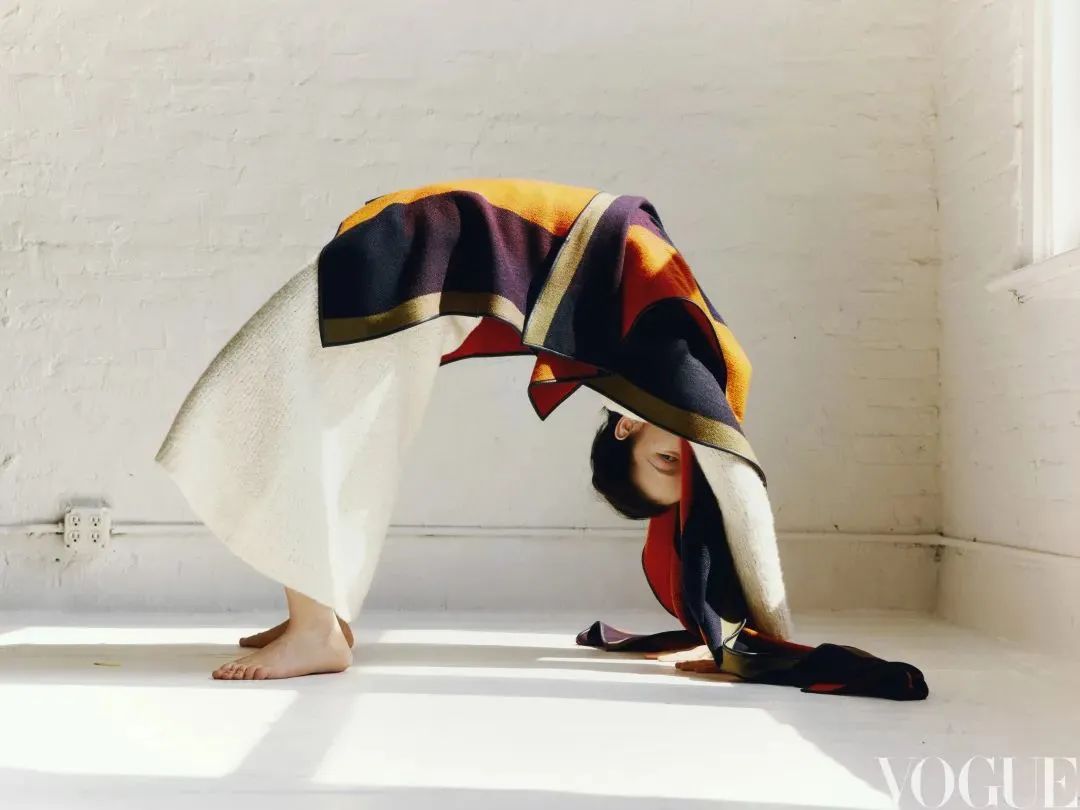 As early as 2015, the Beijing Contemporary Art Foundation (BCAF) and the sustainable clothing brand klee klee under the Nature Group jointly launched the "naze naze Dulong People Arts and Craft Aid Project", which protects and inherits the disappearing traditional handwoven textile techniques through sustained cooperation with local women. Yangzi Spinning, a wholly-owned subsidiary of Suedwolle Group, was willing to provide high-quality wool stock yarn at a low price to support the development of the naze naze Dulong ethnic minority carpets after learning about the story of the weavers of Drungjiang Township, allowing these once-dull materials to regain new vitality in the hands of the weavers. Not only is the fabric used by Gabriela Hearst made from stock, but the wool yarn used in the fabric is also recycled.

Designer Gabriela Hearst's work never lacks the warmth of handmade items. She is good at drawing inspiration from bits and pieces of culture and presenting them on the fashion stage. When her attention was focused on the long-standing traditional handicrafts of China, the beautiful colors, soft textures, and the way colors are blended into the fabric of Dulong ethnic minority carpets caught her attention. The Dulong carpet is a traditional garment of the Dulong ethnic minority in Yunnan, woven on a hand-operated loom. Today, its appearance is beautiful, but originally it was very simple, mostly made of linen and worn as a cloak. It wasn't until transportation became convenient that local women began to weave the hard-won colored yarn into Dulong carpets, and the bright colors earned the Dulong ethnic minority the nickname of the "rainbow-weaving people".

Gabriela Hearst chose a carefully coordinated woolen carpet, preserving its original shape and adding a modern dimension with black leather edging. In her view, all collaboration must be based on respect for tradition. As for why she designed such a shawl this time, she said that wool always reminds her of her hometown of Uruguay, of her vast ranch, and of warm cloaks and thick coats. "My idea is to create beauty from what already exists, which is also related to my cultural tradition. Therefore, my interpretation is to combine the two, which can fully show the beauty of the fabric and weaving. This project allows me to work with a strange cultural tradition and discover beauty from it, which excites me."



#02
SHANG XIA
X
Bamboo weaving

—Connected with Nature—


Since becoming the creative director of SHANG XIA's fashion line a year ago in September, Yang Li believes that the invitation from "VOGUE China" for a handicraft project came at just the right time. He needed a new form and opportunity to connect his grasp of tradition and history with his plans and expectations for the future. In choosing a craft, bamboo weaving was a natural fit. This traditional craft is widely used in the brand's home furnishings, furniture, and accessory designs, and Yang Li eagerly applied it to fashion. He wants to change the outside world's perception of bamboo through his designs, "to show its movement, lightness, and poetry, rather than its usual stiffness."

Experienced bamboo weavers use bamboo from Sichuan as the raw material, allowing the natural color to be preserved to the greatest extent. They cut it into thin strips, resembling hair, and intricately adorn the skirt. As the breeze blows, the bamboo strands sway lightly, creating the illusion of being in a serene bamboo forest. This meaning is long-lasting and embodies the poetry and temperament of Eastern culture. In Yang Li's understanding, this is also a kind of Chinese minimalism, romantic and warm, blending the solemn and lofty temperament with the warmth of nature and humanity. He firmly believes that "the collision of culture and ideas will give birth to new things" and hopes to express a modern Chinese aesthetic through SHANG XIA, "which is not only a perception of deep history and craftsmanship, but also a language that always looks forward."



#03
Louis Vuitton
X
Lacquered Leather Craftsman Techniques


Since its establishment in 1854, Louis Vuitton has never stopped exploring new techniques. This time, Creative Director Nicolas Ghesquière collaborates with Chinese traditional lacquered leather craftsmen to explore a new world of luggage-making techniques and create an innovative masterpiece. China is the birthplace of the world's lacquer art, and its traditional lacquer art, which has undergone thousands of years of development and achievements, has also made significant contributions to human civilization. As an important technique in the lacquer art, lacquered leather craftsmanship also has a long history of development. The fourth-generation inheritor of the lacquered leathercraft production technique is involved in this project, and is one of the few existing inheritors of this technique. Both parties use Louis Vuitton's classic hard case as a prototype to create the Malle Gonflée handbag, which is also very impressive.

The Malle Gonflée handbag perfectly showcases the perfect fusion of modern aesthetics and traditional craftsmanship. The classic Louis Vuitton logo is presented in relief craftsmanship on the edge of the handbag, with a glossy metal material that fully highlights the brand's superb craftsmanship. The three-dimensional leather short handle and hemp rope long shoulder strap give the handbag multiple presentation options in different wearing scenarios. The fabric of the bag body made with lacquer technique undoubtedly becomes the highlight of the entire handbag, creating a unique texture. This collaboration has made lacquer craftsmen such as He Wei more determined to inherit this technique. "My master once told me, 'only by delving deep into the mysteries can we achieve endless success.' I will continue to work hard to bring lacquered leather craftsmanship, this intangible cultural heritage, back to the lives of contemporary people."



#04
Maison Margiela
X
Cloud Brocade
—Paying Tribute to Craftsmanship—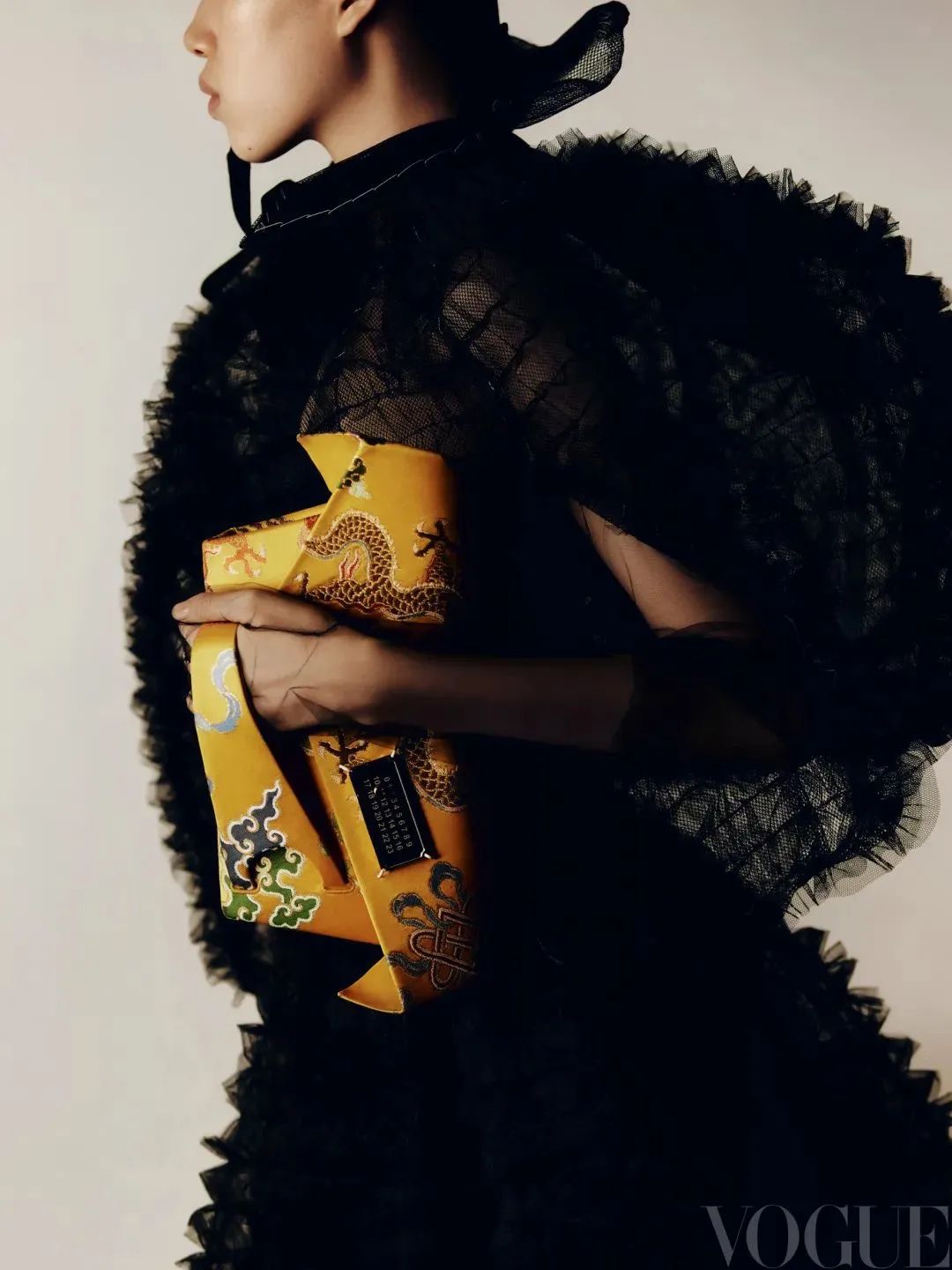 ▲ Black-shaped pleated jacket, dress, and sheer gloves are all from Maison Margiela Artisanal haute couture.
A special figure appeared in the Maison Margiela Artisanal 2022 haute couture collection released in July in Paris - the Snatched cloud brocade handbag specially created by creative director John Galliano at the invitation of "Vogue" for their handicraft project. Galliano has always been interested in Chinese culture for many years, and Nanjing Cloud Brocade has a special meaning: "Over the years, in my research and visits to China, I have encountered Cloud Brocade unexpectedly. Cloud Brocade is an immortal example of exquisite craftsmanship. I think it is very interesting to put it back into a new context as a blessing to the contemporary context of Maison Margiela." Therefore, Galliano chose the brand's iconic handbag Snatched to interpret because in his opinion, this handbag is in line with the spirit of the new generation of young people who value individuality and dare to express themselves, and is a perfect way to introduce cloud brocade to the world.
In response, Wu Ying, the person in charge of Nanjing Chengchuang Weaving and Embroidery Company, which produced the cloud brocade fabric for Maison Margiela, expressed her agreement, stating that "crafts like cloud brocade require people with vision and perspective to do their secondary development and turn a piece of fabric into something that everyone can use. This cooperation with Maison Margiela is like sending a signal to the world and presenting a possibility. Perhaps some people have stopped because they think the pattern of the fabric is not contemporary enough, cannot be mass-produced, or the cost is too high, but with such a signal, there will surely be more chemical reactions in the future."
The rich and diverse cultures from all over the world have always been an endless source of inspiration for fashion designers, but how to avoid cultural appropriation and truly add bricks and tiles to the traditional foundation in the present, Mr. Galliano shared with us, "This is bound to be a two-way street. Its core is to create a kind of communication, let both sides consciously share each other's culture, and create new things. All of this is related to awareness and connection. If something inspires you, then go and study it, understand its roots and its creators. Once you understand the cultural origins, go and connect with other creators who represent this culture. Communication can open up our brains and enrich our ideas."
▲ Cloud Brocade Snatched clutch bag from Maison Margiela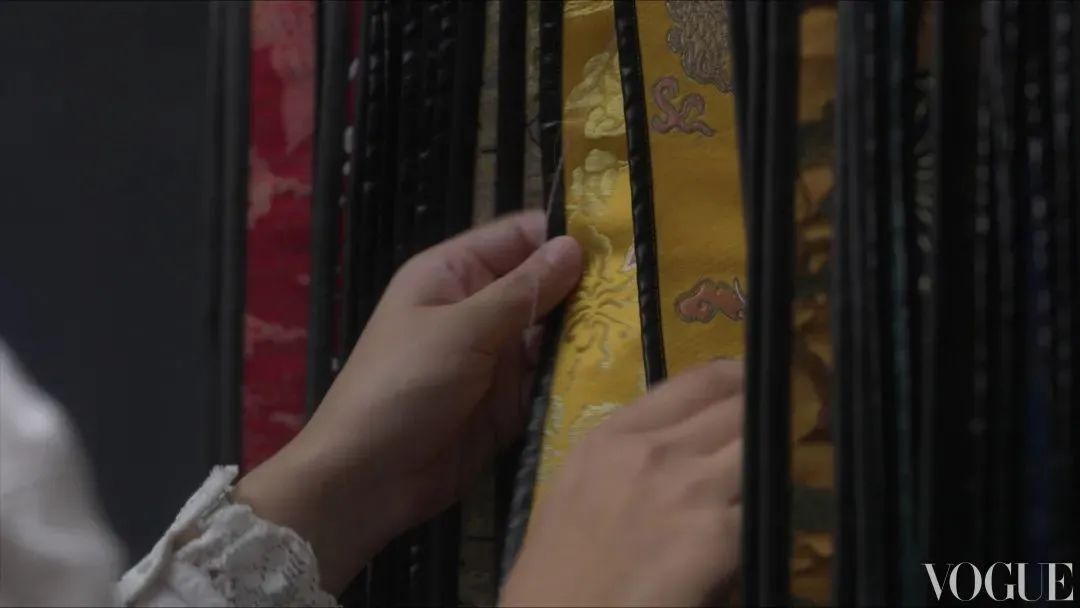 ▲ Nanjing Chengchuang Weaving and Embroidery Company, which produced the cloud brocade fabric for Maison Margiela
#05
MING MA
X
XILANKAPU
—Returning with Honor—

▲ Black XILANKAPU dress from Ming Ma, earrings and pointed boots are all from Giorgio Armani.
For Chinese designer Ming Ma, this collaboration with XILANKAPU seems like a journey back home. This national-level intangible cultural heritage with a history of more than 2,000 years comes from his hometown of Hubei, but for a long time, it has been hovering in Ming Ma's memory in a vague form. This collaboration allowed him to rethink and understand this handicraft, "hoping to transform such a significant fabric into lively clothing. Combining traditional handicraft with fashion can bring different new styles and sparks, and also allow more people to re-recognize and cherish these precious cultural assets."
Designer Ming Ma is introducing the production process of a ceremonial dress.
#06
Jason Wu
X
CPLUS SERIES
X
Shangdang Duijin Brocade
- Floral Artistry -

▲ Shanxi Duijin strapless dress, Jason Wu × CPLUS SERIES, black gloves Max Mara, pointed boots Giorgio Armani
After experiencing a low period caused by the pandemic, Chinese designer Jason Wu injected a lot of floral elements into his recent collections to adorn the beauty of women. His fascination and contemplation of flowers led him to encounter "Shangdang Duijin." This craft has been passed down from ancient times to the present day in the Changzhi area of Shanxi and is the essence of traditional folk craft aesthetics in Shangdang. It is listed as a national-level intangible cultural heritage. CPLUS SERIES designer Liu Juntin, who has a similar experience to Jason Wu, hopes to express the consensus of Chinese people in different cities and with different cultural backgrounds on Eastern traditional aesthetics through this collaboration. Adhering to this consensus, he injected a consistent emphasis on details and inclusive urban style into the design.
"The most difficult part of this craft is the shaping of the model, that is, the consciousness of the lines. The lines play an important role in the modeling of the work. Whether it is petals, leaves, stems, or the clothing wrinkles, limbs, beards, and facial features of the characters, the grasp of the lines must be accurate," said Han Ling, a handicraft craftsman who has been engaged in Duijin craft for more than 20 years. The two collaborated with Han Ling, who has been engaged in Duijin craft for more than 20 years, to create an elegant and timeless red flower-decorated dress. The peony, a symbol of the Duijin craft, bloomed with vitality at the waist. When traditional Chinese crafts and modern aesthetics and design are organically combined, it not only endows traditional handicrafts with modern aesthetic connotations and makes the public pay attention to this endangered ancient technique, but also enables people to find the calmness, patience, and concentration that are missing in the modern spirit world in their fast-paced and restless life.
▲ Designer Boogie Liu explains the process of making the dress.
#07
BALMAIN
X
Yi Silver Ornaments
- Inheritance and Balance -

▲ Yi silver red velvet jumpsuit, headpiece, and earrings are all from Balmain.
Since its establishment in 1945, BALMAIN has developed into a brand that can combine the traditional craftsmanship of Parisian haute couture with a unique 21st-century style, influencing future fashion with its uniqueness. In addition to inheriting the brand's classic aesthetics, BALMAIN's design inspiration is never limited, always able to discover the beauty of diverse cultures with a forward-looking global perspective. China's traditional culture, with a long history, has inspired BALMAIN's creative director Olivier Rousteing's design ideas several years ago.
This time, BALMAIN chose the Yi silver ornaments craftsmen with thousands of years of ancient history as their collaborators, and was surprised to find unexpected similarities between the two parties in terms of production techniques and aesthetics. Yi silver ornaments works have always paid great attention to details, and so does BALMAIN. Yi silver ornaments mostly use pure silver metal as a material, and BALMAIN's works also often shimmer with dazzling metal luster. BALMAIN attempted to re-examine these gorgeous techniques from a "haute couture perspective" and find the perfect balance between blending with traditional Chinese cultural techniques.
▲ Artisans in Liangshan make silver jewelry
The final result of the collaboration between the two sides is undoubtedly stunning. The red velvet dress is neatly tailored and has a three-dimensional shoulder design. It is made of red silk and fiber blended velvet. On this basis, Yi artisans re-conceived their traditional craftsmanship and incorporated it into Olivier Rousteing's design, focusing on structuring the straight lines of the skirt to highlight the cutting contour of the skirt. The fringes hanging vertically along the body and the brim of the hat are also enlarged and interpreted, reinterpreting the iconic details of Yi traditional costumes. The classic Yi silver jewelry wrapped outside the skirt is like a kind of armor, with multiple materials achieving a combination of lightness and toughness, creating an independent and unyielding BALMAIN female image. A knotted heart on the chest is like a beating heart, symbolizing the designer's love and admiration for the extraordinary ancestral craftsmanship and cultural heritage of the Yi people.
▲ Designer Olivier Rousteing making a ceremonial dress in his studio in Paris
During the interview, Olivier also shared with us his design inspiration, "The design aims to present a balance between two aesthetics and two traditions." Under the extraordinary visual tension, he fully interpreted the aesthetic concepts of the two cultures, jointly constructing a contemporary female attitude with pure colors and exquisite craftsmanship, endowing boldness and fearlessness to face reality, reflecting sincere and courageous invincibility. This collaboration undoubtedly establishes a bridge for cultural exchange between Chinese traditional culture and the high fashion house BALMAIN in France, integrating the beauty of Yi traditional culture into this modern and pioneering fashion brand.
#08
Tory Burch
X
Kino Tribe Machete Cloth
— Beauty of Fusion —
With the goal of integrating diverse cultures, we provided a valuable collaboration opportunity for Tory Burch, a luxury fashion brand from New York, and the Kino tribe from Yunnan, China, by using the Kino tribe's unique "Machete Cloth" to reshape the classic Lee Radziwill handbag of the Tory Burch brand. Based on traditional Chinese culture, a new design language was created, presenting a surprising work.
As an ancient ethnic group, the Kino tribe has its own unique cultural heritage, and Machete Cloth is a characteristic hand-woven fabric of the Kino tribe. This fabric is made using a unique weaving method. Tory Burch collaborates with craftsmen from around the world every season, and the dynamic colors, exquisite patterns, and meticulous attention to detail of the Kino tribe's Machete Cloth are in line with the brand's design philosophy.
This time, the two parties have joined hands to create a unique Lee Radziwill double-layer bucket bag. The color scheme of this striped totem is very innovative, with soft neutral colors such as green, orange, ivory, brown, and olive green, providing a refreshing visual experience. In order to present the most original colors, the thread used in the bag is dyed with natural materials, reflecting the idea of harmony between the two parties and nature. The fusion of diverse cultures is fully demonstrated in this cooperation, combining Machete Cloth with leather, suede and brass, and different materials collide to create a unique rhythm, showing a low-key temperament and exquisite charm. The cultural integration between traditional Chinese handicrafts and international fashion brands not only brings new image creativity to various fashion items but also injects profound cultural connotations.
▲The process of making Tory Burch's Machete Cloth handbag in New York
#09
SHANGHAI TANG
X
Caroline Hu
X
Tianhe Yilou Silver Filigree
—Free Growth—
▲Patchwork dress by SHANGHAI TANG x Caroline Hu, photo by Ren Haihua, styling by Alvin Yu, model: Ouyang Ying
SHANGHAI TANG has always focused on the combination of traditional culture and Eastern aesthetics, exploring the lifestyle of the city of Shanghai on one hand, and on the other, returning to what its founder David Tang originally did, which was to explore traditional Chinese crafts. Therefore, it was natural for them to notice Tianhe Yilou Silver Filigree, a metal craft with a history of over 1700 years that is unique to the Han ethnic group in Chengdu, along with Sichuan embroidery, bamboo weaving, and lacquerware, known as the "Four Great Treasures" of Chengdu.
The designer for this collaboration, Caroline Hu, hoped to retain the inherent beauty of the silver filigree while incorporating a more modern attribute through its combination with clothing. Her designs are always filled with a romantic atmosphere from the inside out, and the chemical reaction of colliding with Tianhe Yilou Silver Filigree has further inspired her emotions for design. Caroline's women's clothing is full of wild and unrestrained, free growth vitality. By using the direction of the material and the gradient of the color, it reflects the natural state blown by the wind, and then uses techniques such as filling and pinching to integrate SHANGHAI TANG's iconic patterns.
The goldfish pattern used in the men's wear section is taken from the brand's 22AW visual materials, which describe the life in the Shanghai alleys of the 70s and 80s in Jin Yucheng's novel "Blossoms". It includes Shanghai home decoration and daily necessities that are often overlooked, but contain visual images lurking in people's collective memories. In the process of rediscovering these visually warm elements of memory, SHANGHAI TANG attempts to challenge the stereotyped impression of new and old by blurring the boundary between traditional and modern and presenting Eastern aesthetics with still-remaining heritage. "We hope that our work can achieve a more contemporary compatibility in terms of aesthetics or be a challenge."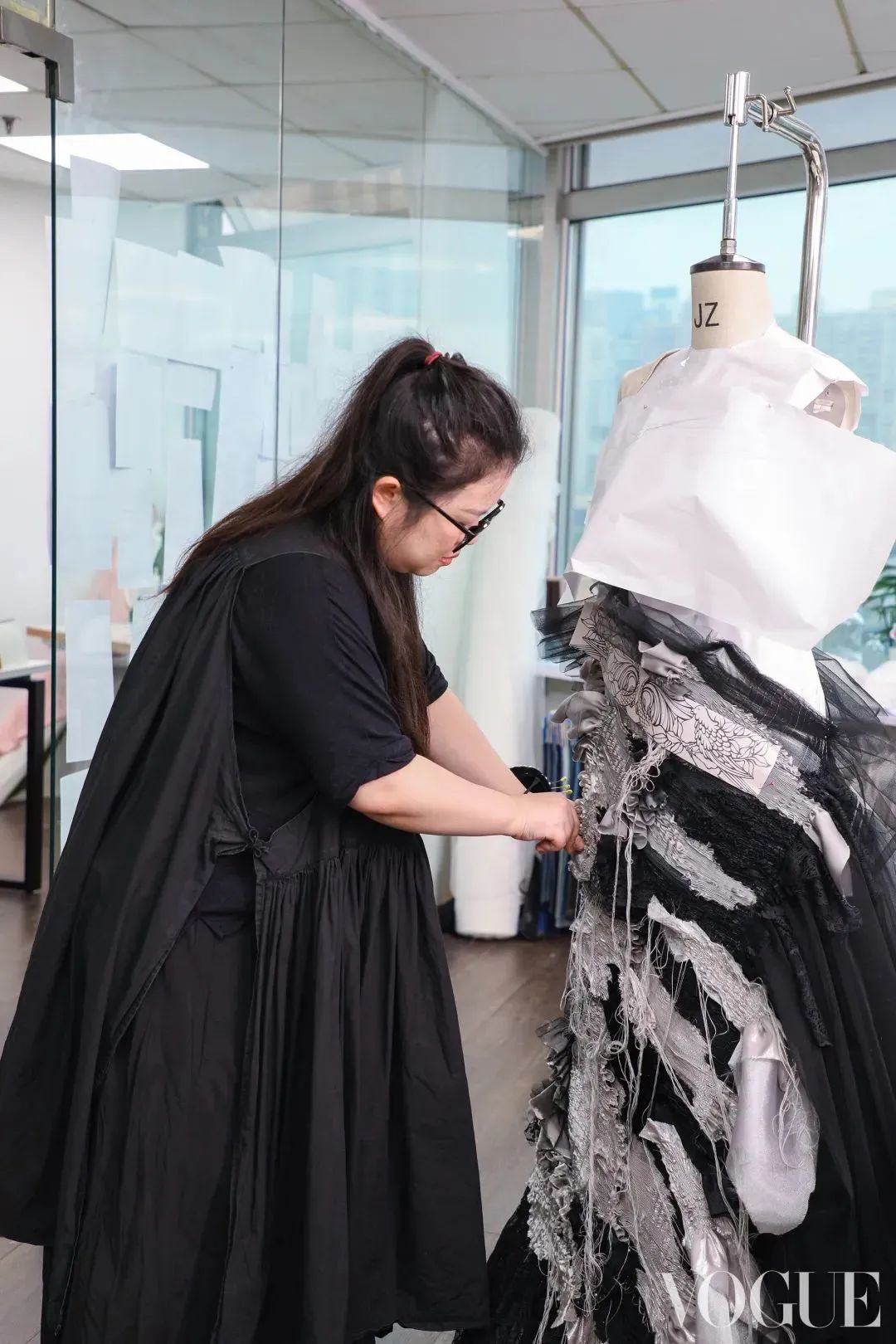 ▲Designer Caroline Hu's inspiration and creative process for this collaboration, photo by York Wang Xingyang.
#10
Christian Dior
X
Dali Dong people embroidery
—Modern Interpretation—
▲ Dong people weave classic Dior suits (Bar Jacket), Miss Dior dresses, Dong people weave vests, Dong people weave pleated skirts, black belts, high heels, earrings, and rings all by Christian Dior. Photography by Ren Haihua, styling by Alvin Yu, model Ouyang Ying.

In the Dali Dong ethnic group in Guizhou, local women can often be seen sitting together weaving flower belts or clothing, using the language of weaving to record their lives. The seemingly complex patterns on fabrics such as clothing and headdresses actually originate from daily life. Elements such as snake skin and octagons that are readily visible in daily life are designed into different patterns. Under the leadership of Maria Grazia Chiuri, creative director of Christian Dior women's clothing, this natural and simple style has been given a new expression. From the classic Dior suits (Bar Jacket) and Miss Dior dresses to vests and pleated skirts inspired by men's suits, the classic Dali Dong people embroidery fabric's light blue geometric texture, under the sophisticated cutting from the Parisian haute couture workshop, presents excellent texture and a modern feel.

Maria Grazia Chiuri also shared her feelings about this: "My work at Dior is exactly a journey of learning about handicrafts. Starting from the tradition of high-end customization, I followed in the footsteps of Mr. Christian Dior, step by step exploring fabrics and techniques from all over the world. Invited by Vogue Fashion and Beauty, I participated in the handicraft project, explored the amazing Dali Dong people embroidery craft, and went deep into understanding its unique weaving techniques... All of this is of extraordinary significance to me. And the several works created using Chinese fabrics in the Dior Paris workshop this time, I think, represent the best proof that handicrafts can transcend national borders, accommodate and display different cultures, and are the best proof of the beauty created by craftsmen working together."



#11
Artistic Co. Ghost Premium II
Beauty device
X
Gold and silver fine work base
—Dazzling Beauty—

Artistic & Co. Ghost Premium II beauty device is connected with the traditional Chinese gold and silver fine work. A customized base was designed by a handicraftsman, Li Jing from Suzhou. Li Jing sings praises to the beauty of women blooming with traditional elements such as flower windows, lotus flowers, and treasure flower, choosing 925 silver with 18k gold plating as the base material, while inlaying pearls, sapphires, rubies, and jade. Multiple traditional jewelry-making techniques were also used in production, such as micro-inlaying, fish scale texture, flower wire texture, drawing, and color separation. Li Jing also considered the versatility of the base when designing it; the flower inlays can be taken off separately, and the base can be placed upside down as a scent holder. She hopes that women using the beauty device for skin care can have a comprehensive sensory experience of sight, touch, and smell.

*The above article is reprinted from "Fashion and Beauty VOGUE"

Photography: Ren Haihua
Styling: Zhao Hui Michelle Zhao
Editing: Chen Xinying Lexi Chen, Tian Yiwu Sugar Tian, Yu Jiahua Alvin Yu
Part of the writing: Xi Bei, Bao Mengzhi
Overall planning: Guo Yue Nv Summer Guo, Wang Jue Julie Wang, Dai Lisi Dellis Dai, Zhang Chuyue Cherry Zhang
Models: Wang Yihui, Zhang Xichen, Cui Qi, Zhang Yijiazi, Yang Xiaoyang
Executive production/art: MAKEMAKE Studio, Wang Xiaolv
Makeup: Yang Shuo Jonathan Yang, Kevin Cheah
Hair: Han Bin, Li Chong
Photography assistant: Gong Cheng, Zhou Weihan
Fashion assistant: Zhou Xinyi Alli Chou, Lin Zekai, Grace Chan, Siwen, Song Jingmin, Han Lu
Special thanks: Beijing Contemporary Art Foundation (BCAF), Wingjoy Culture, United Nations Fashion Charter (UNFCCC Fashion Charter)
Aerial photography: United Energy.