NordArt International Contemporary Art Exhibitions

Calling for Artists
As partner organization, BCAF is honored to recommend Chinese artists to apply for NordArt 2022, one of the largest international contemporary art exhibition in Europe.
Kunstwerk Carlshütte is a non-profit cultural initiative and has been organizing the international NordArt since 1999. It is co-hosted by ACO Gruppe, the towns of Büdelsdorf and Rendsburg. NordArt thrives on the different perspectives of individual cultures, and it is a very special place for exhibitions, concerts, readings, theatre performances and film screenings.
With 3,000 application from all over the world each year, more than 200 international artists are selected by a jury. NordArt dedicates an individual pavilion to a different country every year and also presents special projects, cooperation with embassies, cultural institutions and curators from various countries.
Wolfgang Gramm is the Chief curator of the NordArt and Inga Are as the
co-curator.Hosts
of Kunstwerk Carlshütte are Hans-Julius Ahlmann and Johanna Ahlmann. Zhu Zijuan is the General Manager of China District. NordArt has been working with Chinese artists since day 1, with the number of invited artists reaching 248 in 2021. Recent invited artists include: Chen Zhiguang, Deng Guoyuan, Fu Zhongwang, Guo Gong, Li Gang, Li Xiangqun, Liang Kegang, Lyu Shun, Liu Ruowang, Meng Luding, Qing Feng, Qing Chong, Reng Rong, Shang Yang, Shao Yinong, Sui Jianguo, Tan Ping, Wang Hengsheng, Wang Yigang, Xiang Jing, Xiao Yu, Xu Bing, Xu Jiang, Yu Fan, Zeng Chenggang, Zhang Dali, Zhang Wei.
Exhibition Date: 4 June 2020 - 9 October 2022

Deadline for Applications (for Chinese artists): 30 September 2021
*Application opens on 1 August each year. Please consider apply via email first. The committee will also accept application by post.

Application documents by post or by email:


Application form

Artist resume in English

Image of max.10 artworks which could be shown at NordArt.
Please label all images with title, year of origin, technique and size - in the file name or with extra document. Please do not send any original artworks.
The return of application documents is not possible. Please send the documents by 31 October 2021 at the latest (postmark). The recording of personal data through this form serves the exclusive purpose of establishing contact between the artist and NordArt.
Postal Address:
NordArt-Büro,
Kanalblick 26,
24814 Sehestedt
Email Adrdress:
jzaft@kunstwerk-carlshuette.de
Application Form:
Please fill in the form below (download as .jpg) and attached as a scanned copy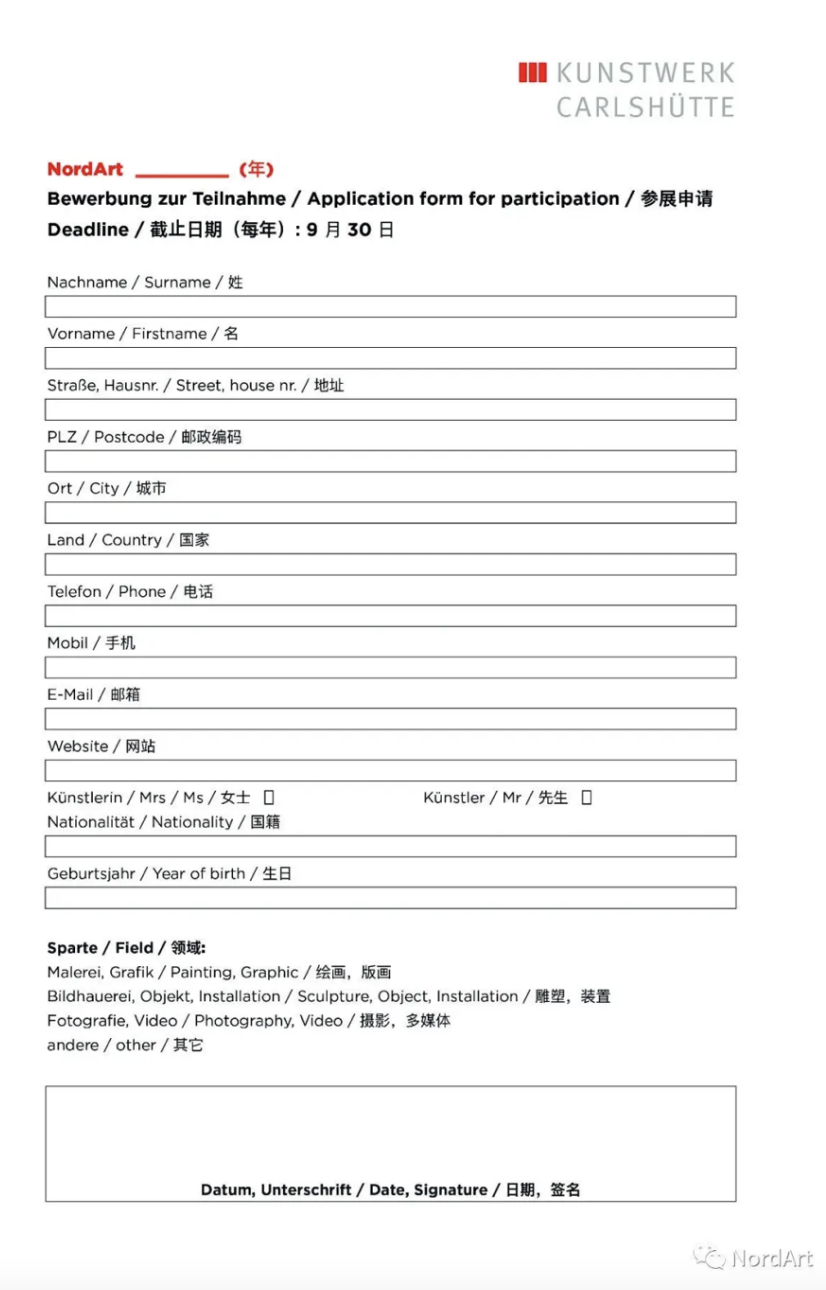 Selection of Artists:
The selection deadline for Chinese artist is the end of December. The jury is made up of curators, artists, an art historian and the supervisory board. A list of invited artists will be published on our website in early March 2022. All invited artists will be informed by email or post and asked to confirm their participation and send the documents for the catalogue.
Thank you for understanding that the artists who could not be selected will not receive a separate notification.
Exhibition Fee:
There is no commission fee. The exhibited artworks may be offered for sale. We will pass on the details of potential purchasers to the artists, who send the invoice directly to the purchasers. The sold artworks are ready for collection by purchaser after the end of the exhibition.
Delivery of the Artworks:
Artists are responsible for transportation of their art works, including international freight, to and from the exhibition site. We can recommend delivery company if needed. All delivered artworks will be insured to the general insurance conditions from the time of delivery to the time of collection (by the end of October 2022). The installation of the artworks is carried out by the NordArt team (if required, by the artist).
Delivery Address :
The artworks selected by the jury must be delivered by 30 March 2022 to the following address (can be earlier than the application date):
Kunstwerk Carlshütte,
NordArt,
Vorwerksallee 3,
24782 Büdelsdorf
Germany
NordArt Catalogue:
The exhibition catalogue will be printed bilingually (German & English, A4) and will present all participating artists with one page each. The photos and text content will be requested with the jury's invitation and must be submitted by email within 10 days. All participating artists receive a free copy of the catalogue.
NordArt Prize:
The NordArt Prize worth 10,000 euros has been donated by Hans-Julius and Johanna Ahlmann since 2010. The NordArt Prize is awarded annually to one
artist.The
prize winner is announced towards the end of the exhibition and is invited to participate in NordArt again. The award ceremony takes place at the NordArt opening in the following year.
Public Choice Award:
NordArt visitors have the opportunity to vote for their favorites. Voting ends a week before the award ceremony and the winner are announced during the NordArt Lighting Festival. The three Public Choice Awards are endowed with 1,000 euros each and come with an invitation to participate in the NordArt the following year.
乌克兰国家馆:《现实极限》
策展人:Evgen Karas.
Darina Momot,2021
邓国源(中国):《洛利的花园》
装置,金属,LED, 2019
邓国源(中国):《诺亚花园 II》
装置,铝合金,钢,镜面,LED,
1156 x 650 x 320 cm,2014
Gilles T Lacombe(法国):《大耳》
装置,纸,音箱等综合材料,
330 x 230 cm,2020
陈志光(中国):《移民时代》
装置,铸铁,800 件,
每件 45 x 35 x 25 cm, 2020
向京(中国):《一百个人演奏你?还是一个人?
群雕,玻璃钢着色,
140×80×80 cm; 130×50×65 cm;
140×54×70 cm; 135×46×75 cm;
130×65×75 cm; 130×50×115 cm;
80×54×30 cm, 2007
张大力(中国):《种族》
玻璃钢,组雕(等人比例),2007 年
秦冲(中国):《黑白联合国》
装置,布面印刷,51 件,
每件:200 x 335 cm, 2019
Markus Rock(德国):《那个我和其他》
摄影,铝合金版印刷, 多件,
约 220-300 cm,2016
奚建军(中国):《通天塔》
装置,综合材料,
750 x 500 cm,2018
Lee Won Kyung(韩国):《两扇门 I-II》
装置,塑料,木材,玻璃,
作品比例与真人相符, 2016
HC Berg(芬兰):《光动流》
雕塑,彩钢,
220 x 220 x 340 cm, 2010
徐冰(中国):《凤凰》
建筑垃圾,发光二极管,3 万只 LED 灯点
凤: 由 84 块可分解部件组成,
3100 x 720 x 630 cm,2015
凰: 由 85 块可分解部件组成,
3000 x 860 x 470 cm,2015
David Černý(捷克共和国):《思想者》
雕塑,230 x 120 x 100 cm, 2015
David Černý(捷克共和国):《马力》
双组雕塑,玻璃钢着色,
铝合金,金属,发动机
每件:350 x 300 x 130 cm, 2015
David Černý(捷克共和国):《泰坦尼克》
装置,不锈钢,玻璃,2016
David Černý(捷克共和国):《飞行摩人》
雕塑,不锈钢,LED, 高: 400 cm,2016
David Černý(捷克共和国):《直升机》
雕塑,不锈钢,发动机高: 280 cm,201516
David Černý(捷克共和国):《双足瓦迪斯》
雕塑,玻璃钢,金属,
310 x 390 x 170 cm, 1990
Tobias Zaft(德国):《疯狂办公室》
灯光多媒体装置,
办公座椅,纸,碎纸机,日光灯,
350 x 350 x 350 cm, 2015
Tobias Zaft(德国):《凉衣绳》
钢丝,灯箱,LED,
30 x 220 x 1500 cm,2011
Tobias Zaft(德国):《F城》
多媒体灯光装置,
钢,亚克力,LEDs, 数据处理器,
单体楼占地尺寸:85 x 38 x 38 cm,
高 319 cm, 2016灯光装置,
Jaan Elken(爱沙尼亚):《无题》
布面水粉,300 x 195 cm,2014
AES+F(俄罗斯):《三元奇节》
视频装置,HD,
68:15 分,2009-2010
AES+F(俄罗斯):《第一骑士》
雕塑,玻璃钢,不锈钢
650 x 450 x 450 cm,2009
AES+F(俄罗斯):《Inverso Mundus》
视频装置,HD, 38:00 分,2015
吕顺(中国):《盛宴》
群雕,铸钢,
250 x 240 x 1000 cm,2009
Angelika Haak(德国):《已知死者肖像》
视频装置,200 x 150 cm,
8:35 分循环,2011
Miriam Lenk(德国):《Le Mepris》
雕塑,人造树脂,
160 x 130 x 80 cm, 2007
Katja Tukiainen(芬兰):《女孩儿就是女孩》
油画,三联画,
每件:200 x 150 cm, 2016
Vilu Jaanisoo(爱沙尼亚):《霍泰,七大乐神之一》
雕塑,轮胎,
275 x 210 x 195 cm, 2006
Christa Biederbick(德国):《游行》
装置,综合材料,
320 x 285 x 700 cm, 1977-1979
中国项目:《无常之常》
策展人:梁克刚
Wolfgang Gramm(德国):《德鲁伊石 III》
雕塑,石,水,科藤钢,
250 x 300 x 300 cm, 2016
孟禄丁(中国):《圆》
联画,布面水粉,
290 x 590 cm, 2011
傅中望(中国):《人体改良》
装置,不锈钢切割
150 x 28 x 41 cm,
180 x 49 x 35 cm,
298 x 80 x 58cm, 2008
Juliane Jütter(德国):《神奇的托马斯》
雕塑,聚合石膏,人造树脂,
高:140 cm, 2004
第一排展墙:
Ulrich Heemann(德国):《Andrea Agnes 17》
摄影+绘画,布面喷绘,
每件尺寸:205 x 140 cm, 2014-2015
第二排展墙:
Andrea Cziesso(德国):《菲库斯子宫》
摄影,布面喷绘,
每件:90 x 60 cm, 2014-2015
Willi Reiche(德国):《神奇蘑菇》
多媒体装置,综合材料,
370 x 245 x 245 cm, 2013
Alexander Rukavishnikov(俄罗斯):《都督》
雕塑,青铜,
220 x 145 x 75 cm, 2002
Antonio Vigo Pérez(西班牙):《单维》
装置,综合材料,
160 x 185 x 120 cm,2013
Rolf Biebl(德国):《群组人像》
群雕,木材,大理石,
高:155-218 cm, 1992-2012
Vilu Jaanisoo(爱沙尼亚):《爸爸儿子》
视频装置,2 组,
每组:150 x 150 x 150 cm, 2010
Christina Wendt(瑞士):《无题》
群雕,陶瓷,真人比例,
底座高:500 cm, 2011
Mok Yee Lee(马拉西亚):《吃吃》
装置,钢勺雕刻,
244 x 122 x 122 cm, 2012
Mok Yee Lee(马拉西亚):《吃吃》
装置,钢勺雕刻,
244 x 122 x 122 cm, 2012
Ludmila Seefried-Matějková(捷克共和国):《边缘》
装置,综合材料,
125 x 200 x 200 cm,
1976–1977
Christa Biederbick(德国):《鼠》
雕塑,铜,喷漆,
290 x 190 x 128 cm,
2002-2004
Christa Biederbick(德国):《作家》
雕塑,人造树脂,
128 x 110 x 110 cm,
1993-1994
Christa Biederbick(德国):《批评家和他的家猪》
雕塑,赤陶,
188 x 86 x 128 cm,
2007-2009
Manfred Kielnhofer(奥地利):《时间卫士》
雕塑,水泥,人造树脂,
170 x 80 x 80 cm, 2010
Guido Messer(德国):《观察员》
雕塑,铜,不锈钢,喷漆,
310 x 175 x 175 cm, 2005-2006
Karin Christiansen(德国):《儿童旋转木马》
雕塑,木,画布,
真人比例,2007
皇城(中国):《艺术家》
雕塑,有机塑料,
34 x 102 x 62 cm, 2013
Wolfgang Gramm(德国):《莉莉玛莲》
装置, 木, 石头, 灯(路灯)
实物比例,1998
开幕式参展艺术家合影
刘若望(中国):《狼来了》
群雕装置,铸铁,110 件狼,一个战士
单只狼实物比例,2008-2010
外延展区:市中心小广场
刘若望(中国):《原罪》
群组雕塑,共 36 件,铸銅,
350 × 180 × 120 cm,2011-2013
Media & VIP Opening Ceremony
As NordArt receives more attention worldwide, the number of audiences attending the opening ceremony each year has also increased. At its peak, the ceremony hosts more than 4000 audiences. This put pressure on the security, and especially those provides protection to guests that have special requirements. Therefore, NordArt has launched the Media & VIP pre-Exhibiiton Opening Ceremony in 2016. Unlike the one opens to public and held in an outdoor sculpture plaza, the pre-Exhibition Opening Ceremony takes place at the indoor No.2 exhibition hall. All attending guests will receive a letter of invitation and participate with their real name. The number of guests is between 400 to 600. The Ceremony has three sections: guest speeches, expert tours, dinner and cocktail reception. The speakers are usually the investor, representative from the country of focus (usually the country's ambassador), and NordArt Prize winning artists.
Music Festival and Other Cultural Events during the Exhibition
The Music Festival held in Kunstwerk Carlshütte is one of most beloved event during the exhibition. Audiences get to enjoy music from around the world with more than 10 concerts each year. Kunstwerk Carlshütte also provides spaces for other cultural events where audiences ranging from 500 to 2000.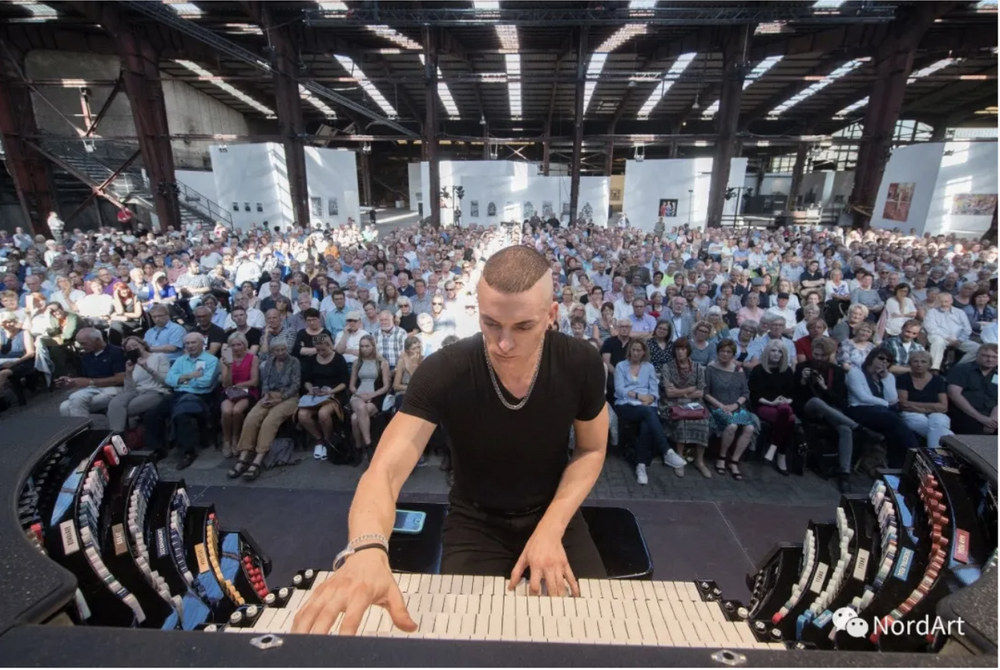 NordArt Digital Tour - Weibo Channel:
Filmed and edited by Conrad Pfüller, the Digital Tour is hosted by NordArt guides. The Tour presents works of art from previous exhibitions in an informative and entertaining manner. Please copy and paste the following weblink to your browser and enjoy the tour:
https://weibo.com/u/1966951937?is_all=1
NordArt Chinese Website:
www.nordart.de/cn
Exhibition Information for Chinese artists please email:
Zhu Zijuan
jzaft@kunstwerk-carlshuette.de