People as Focus | BCAF in 2023
2023 | BCAF Work Planning
In 2023, we will continue to uphold the principles of an independent, diverse, and free civil future.
We are committed to promoting cooperation and sharing in several areas, such as talent support, think tank, and art public welfare, with a focus on people-oriented initiatives.
In 2022, we overcame the challenges of the epidemic and achieved a satisfactory outcome with our donors, partners, and funding groups. As we move forward, we are filled with hope and optimism.
We welcome like-minded partners to contact us for cooperation in any of our three focus areas:
01
ARTIST | Talent Support
Our focus areas include international cultural cooperation, supporting youth original talent, promoting gender equality development, and integrating art and technology
02
AGORA | Think Tank Space
We are committed to equal and authentic thought dialogue and specialize in international research, urban cooperation, and maintaining a contemporary humanities and thought library.
03
ALL | Art Public Welfare
Our aim is to create a diverse and interesting cultural life for everyone. Our focus areas include sustainable design, promoting art and growth together, providing rural children with aesthetic education, showcasing Chinese New Folk Art, and promoting art therapy.
01
ARTIST Talent Support | Free and Independent Art Expression
International Cultural Cooperation
Public Welfare Film "HEARTBEAT": A Unique Reflection on Mental Health
Producer: Beijing Contemporary Art Foundation
Produced by: Momo Technology (MOMO)
Cooperating Organizations: World Health Organization (WHO)
Director: Lee Changdong (Korea)
Lee Changdong, a famous Korean film director, has won many awards at the Cannes and Venice Film Festivals. His new movie "HEARTBEAT" is focused on mental health and depression. We hope to spread awareness and knowledge about depression through Lee's work, by showing it internationally and promoting international conversations about it.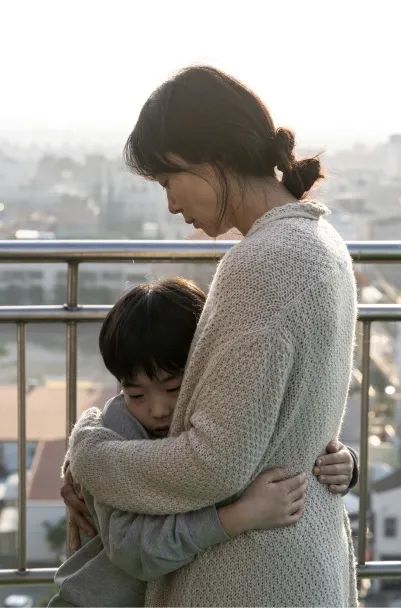 Berggman's Film Adaptation of the Opera Cries and Whispers: A Cross-Cultural Dialogue between the New Generation and the Classics
Artists: Zou Shuang (China), Mikael Karlsson (USA), Royce Vavrek (USA)
The opera Cries and Whispers is based on Swedish film director Ingmar Bergman's movie of the same name and is co-produced internationally. It is planned to tour the world in 2025. BCAF is the "supporting organization" while the Swedish Cinematograph Company, the copyright holder of Bergman's film, is the "creative cooperation organization". An international team including Chinese young stage director Zou Shuang, American famous composer Mikael Karlsson, and playwright Royce Vavrek will explore a new model of international production and co-production touring.
Youth Original Talent

ART FOR GOOD
Open Application for Talent Support
Application Scope: Young Creators, Rural Children's Aesthetic Education, Minority Women
Support Scope: Art Creation, Art Exhibition, Art Collection, Art Residency, International Cooperation, Professional Forum, Think Tank Report, International Publishing, Art and Culture Festival, Policy Research, etc.
Contact Information:
Please send an email to
hufei@bcaf.org.cn
BCAF New Voice
"NEW VOICE" invites dozens of mentors from the fields of art, design, literature, thought, film, architecture, dance, children's aesthetics, drama, music and other fields to discover the new generation of Chinese talents with us and construct a unique and true public cultural landscape. The recommended newcomers will be given priority to receive the BCAF Youth Talent Scholarship and Project Creation Fund, and be invited to participate in the global cultural exchange and international/domestic art residency projects hosted by BCAF and CaiXin Creative.
Art+
A talk show about art with no limits. We invite artists, art professionals, and people from all kinds of industries to talk about the endless possibilities of "Art + X", show examples of art in everyday life, and discuss the different values of art. It's a great way to increase your own aesthetic sense, promote aesthetic education, and support literary and artistic activities.
Art and Technology Integration
2030 CultureTech Technology and Arts Challenge
The goal of the first season of the CultureTech Arts and Technology Challenge is to help the United Nations achieve its vision of a more sustainable, equitable, prosperous, and peaceful world by 2030. In 2023, the Challenge will begin, utilizing Web 3 technology to showcase art created by indigenous and minority populations and to help preserve important cultural designs that are part of our human heritage.
02
AGORA
Chinese Alliance for Impact Culture Investment
The Beijing Contemporary Art Foundation aims to work with partners to promote sustainable culture in China. The goal is to use culture to guide investment and establish standards for developing culture in a systematic, responsible way. The aim is a sustainable future for global culture.
03
ALL
2023 "Sustainable Design Funding Program"
In 2023, BCAF plans to continue a program focused on sustainable design. The program's theme will be "Ecological Co-creation". BCAF will work with partners who care about sustainable design to create things together.
BCAF also aims to advance the idea of "New Sustainable Ecology" in 2023. The program will include categories like rural ecology, product design, visual design, user experience design, platform and game design, tourism product design, and urban community ecology.
The program will cover topics such as art and design, technology, travel, healthcare, internet technology, and new ways of agriculture and rural life.
Art grows with life
The BCAF Children's Nature Art Park highlights art made from recycled materials. By investing in the community and operating sustainably, it aims to become a flexible and innovative children's park project that locals can enjoy.
Art grows with life | BCAF rural children's aesthetic education
In 2023, BCAF's Rural Children's Aesthetic Education program will publish a "Hometown Aesthetics Reader" at the county level and continue Liu Yalan's "Four Seasons Art Class in Dananpo". The program will also collaborate with LEGO to provide rural aesthetic education and explore the possibility of creating more art education spaces in local schools. The 2023 summer camp will feature a walking aesthetic course as a part of the "Graduation Trip Together".
For more information, contact
fanglingxiao@bcaf.org.cn
.
Rural Education Youth Artist Residency Program
Starting from 2022 and continuing through 2023, the BCAF will be selecting young artists to participate in its Rural Education Youth Artist Residency Program. The program aims to provide art education to rural Chinese schools and promote aesthetic education in rural communities. The selected artists will be teaching and engaging with students in these rural communities for a period of time. This program is part of the foundation's ongoing efforts to bridge the cultural gap between urban and rural areas and foster cultural exchange through art education.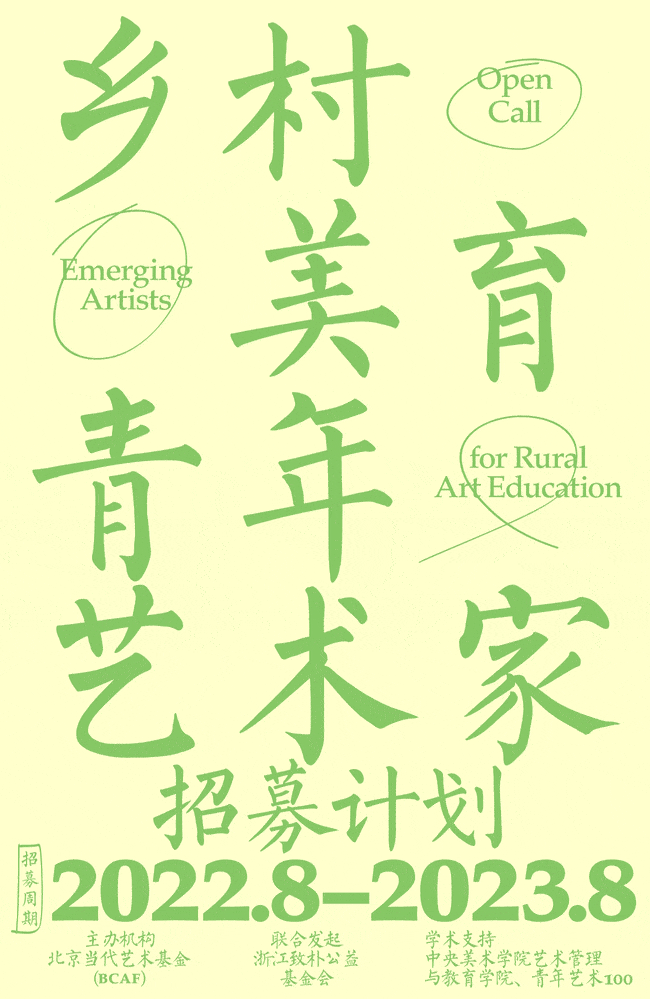 VOGUE China Handicraft Project
In 2022, the BCAF partnered with VOGUE China magazine to produce a series of craft projects featuring traditional Chinese handicrafts. The foundation coordinated with 10 groups of ethnic Chinese craft artists to create unique works with internationally renowned designers that combine traditional and modern design. The aim was to promote Chinese handicrafts and increase international understanding and cooperation with the Chinese craft industry. The project will continue in 2023, with the same goal of promoting traditional Chinese crafts and integrating them with modern design.
Support Yunnan Dulong Women's Handicrafts
The Naze Naze project has been helping Dulong minority women in Yunnan, China to earn income by weaving handicrafts. The project has formed community weaving groups of 20-40 women over the past 8 years. The women now run their own weaving business and have exhibited and sold their crafts in Norway, the Netherlands, and London. In 2023, the project plans to create a community space for the women to gather and weave. This space will have design and reception areas to empower local women as project leaders.
Qinghai Tibetan Community Padra Nomad Cooperative
In 2021, the cooperative in Pachuo won an award for the best eco-friendly product design of China Sustainable Design Award. The cooperative's handcrafted nomadic products have become popular.
In 2023, an eco-lodge in Sanjiangyuan is scheduled to open. BCAF plans to invite artists to the lodge and cooperative to work together on sustainability projects.
Contact Us

Partnership

Established in 2008, BCAF's mission is to "Discover cultural innovation and promote art for public good." We are committed to becoming China's most pioneering and energetic art funding foundation, supporting original and individual talents, and expanding public cultural space. We welcome partners to join us in discovering China's breakthrough cultural institutions and projects, and supporting individual artists' creative thinking and international cooperation.
Institutional cooperation:
Hu Fei (Secretary-General)
hufei@bcaf.org.cn
Fang Lingxiao (Project Manager)
fanglingxiao@bcaf.org.cn
Hu Anxin (Project Manager)
anxin.hu@bcaf.org.cn
Media cooperation:
Wu Chenyi (Communications Manager)
chenyi@bcaf.org.cn

Donation support
As China's most representative and award-winning independent public art funding foundation, BCAF enjoys tax-exempt status and pre-tax deduction status for charitable donations, as well as a 3A rating as a social organization. In the past many years, we have supported 1,400 creators, held over 800 events in 20 countries around the world, and provided funding of over 45 million RMB. Beijing Contemporary Art Foundation looks forward to your support in jointly building a vibrant and innovative cultural public welfare project.
Donors to BCAF enjoy pre-tax deduction status for charitable donations. Please indicate the project, name/address/zip code in the payment remarks so that we can arrange to mail donation certificates and receipts for charitable donations.
Donation cooperation contact:
An Jingye (Development Manager)
jingye@bcaf.org.cn
Pu Xi (Development Manager)
elsapuxi@bcaf.org.cn