Traditional Handicrafts and Clothing Auction · Charity Event
In 2023, the Beijing Contemporary Art Foundation (BCAF) as a charity supporter, in collaboration with "Vogue Fashion & Beauty," Yongle Auctions, and Fuyi Auctions, jointly launched the "Traditional Handicrafts and Clothing Auction" event. The items up for auction come from the BCAF x VOGUE "Preserve Handicrafts Project," all created by Chinese traditional handicraft artists and well-known designers from home and abroad.
After the auction, all funds will be used to support the sustainable and innovative development of China's traditional handicraft community in the long run!
The auction will take place at 2:00 p.m. on February 23, 2023, at the Four Seasons Hotel in Beijing. Let's appreciate the eight pieces that will be up for auction: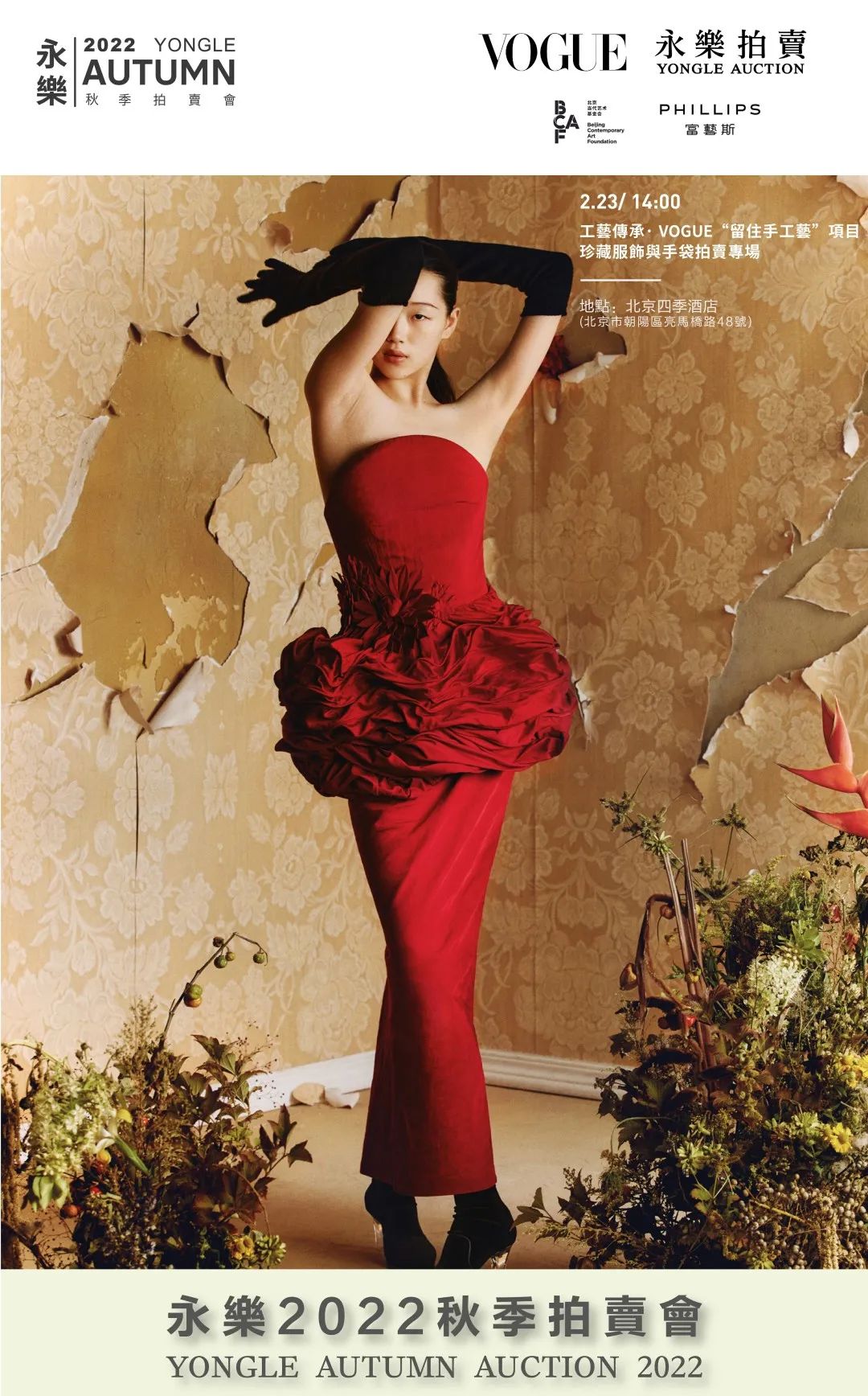 #01
Nanjing Yun Brocade
x
Maison Margiela
Maison Margiela designer John Galliano has always been passionate about Eastern culture. This time, he focuses on the well-known intangible cultural heritage Nanjing Yun Brocade and chooses to interpret it with the brand's iconic handbag, Snatched. In his view, this handbag corresponds to the spirit of the new generation of young people who value individuality and are brave in self-expression, making it a perfect way to introduce Yun Brocade to the world.
#02
Yi Silver Jewelry
x
BALMAIN
BALMAIN hopes to showcase the beauty and delicacy of Yi silver to the fullest extent. This red velvet dress has a sharp cut and a three-dimensional shoulder design, made from a blend of red silk and fiber velvet. Based on this, Yi craftsmen re-conceived their traditional craftsmanship and integrated it into Olivier Rousteing's design, focusing on structuring the straight line of the skirt to highlight the cut and shape of the skirt. The tassel fringe that hangs vertically along the body and the hat brim is also enlarged and interpreted, reinterpreting the iconic details of Yi traditional clothing. The Yi classic silver jewelry wrapped outside the dress is like a kind of armor, with multiple materials creating a combination of lightness and toughness, creating an independent, resilient BALMAIN female image.
#03
Shangdang Piled Brocade
x
Jason Wu & CPLUS SERIES
Chinese-American designer Jason Wu, who was praised by Michelle Obama, teamed up with Boogie Liu, the founder of the Chinese independent designer brand CPLUS SERIES, to combine the Shangdang Piled Brocade craftsmanship from Shanxi and create a beautiful long dress. The two designers worked together with Han Ling, who has been engaged in piled brocade for more than 20 years, to create an elegant and timeless red floral decorative gown, with the Shangdang Piled Brocade peony blooming with vitality at the waist. When traditional Chinese handicrafts are organically integrated with modern aesthetics and design, not only does it give traditional handicrafts a modern aesthetic connotation, it also makes the public pay attention to this ancient craft that is on the verge of extinction. It allows people to find the calmness, patience, and focus that are missing in the modern world's fast-paced and restless life.
#04
Dulong Ethnic Woven Tapestry
x
Gabriela Hearst
Gabriela Hearst, who advocates for sustainable development as her design philosophy, transformed the woven tapestries of the Dulong sisters into a cloak shawl. When asked why she designed such a shawl, she said that wool always reminds her of her hometown of Uruguay, of her vast ranch, and of warm cloaks and thick coats. "My idea is to create beauty from things that already exist#05
#05
Bamboo weaving
x
SHANG XIA
Yang Li, the creative director of SHANG XIA, a subsidiary of Hermès, presents an artistic dress using bamboo weaving technique. He firmly believes that "the collision of culture and ideas will give birth to new things" and hopes to express a modern Chinese aesthetic through SHANG XIA, "which is not only a perception of profound history and craftsmanship, but also a language that always looks forward."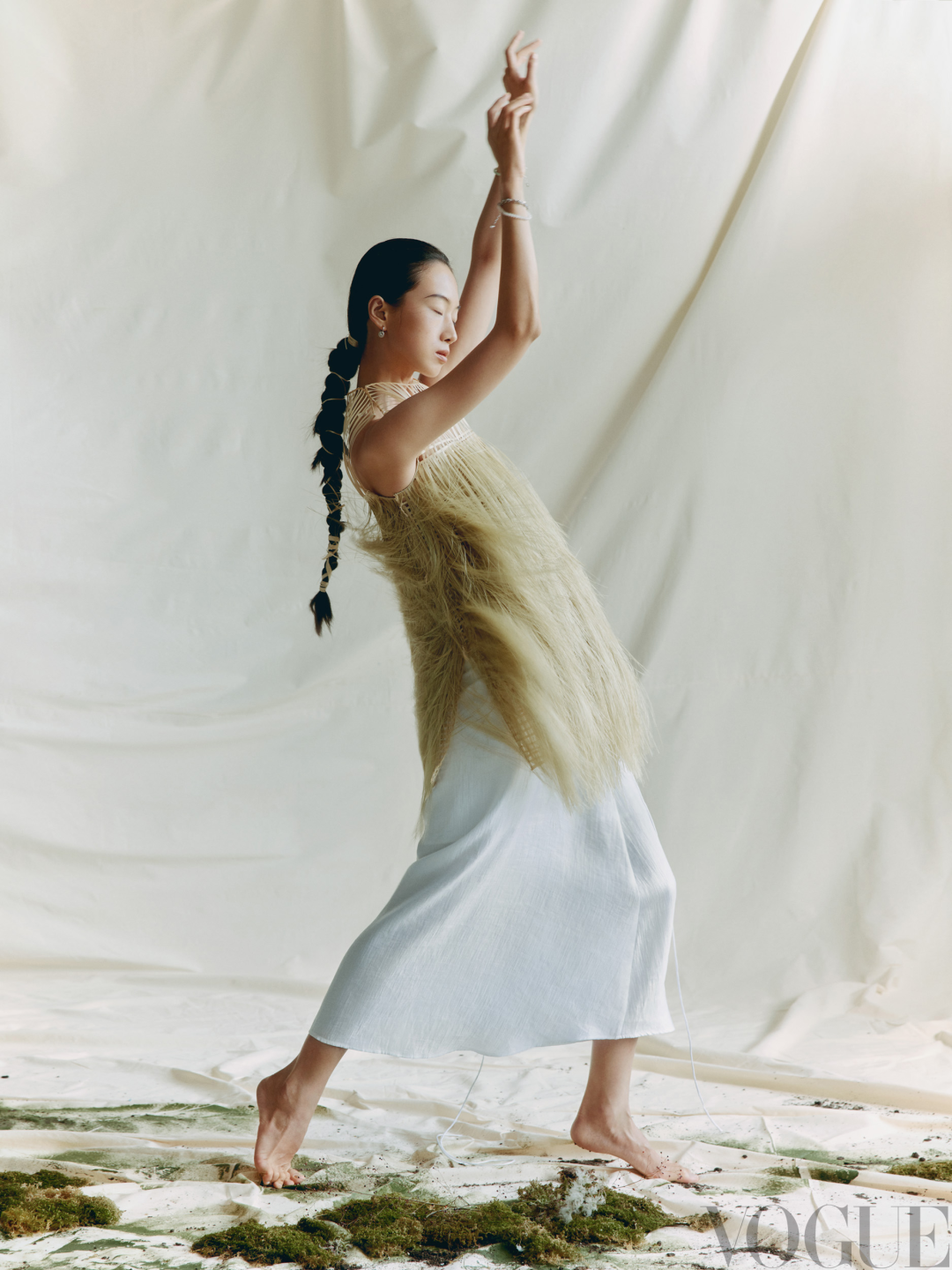 #06
Jino tribe machete cloth
x
Tory Burch
Tory Burch ingeniously applies Jino machete cloth to handbags. The color combination of this striped totem is very novel, with soft neutral colors such as green, orange, ivory white, brown, and olive green, providing a refreshing visual experience. The fusion of multicultural beauty is fully demonstrated in this collaboration. Machete cloth is combined with leather, suede, and brass, and different materials collide with a unique rhythm, showcasing a low-key temperament and exquisite charm. The cultural integration between traditional Chinese handicrafts and international fashion brands not only brings new creative images to various fashion items but also injects profound cultural heritage into them.
#07
Tujia brocade Xilankapu
x
MING MA
Chinese designer Ming Ma chose Xilankapu brocade from his hometown of Hubei and combined it with his expertise in haute couture to create a long dress. This collaboration allowed him to rethink and recognize this handicraft. "I hope to transform such a significant fabric into a flexible garment. Combining traditional handicrafts with fashion brings different new styles and sparks, and can also make more people re-recognize and cherish these precious cultural assets."
#08
Tianhelou silver flower silk
x
SHANGHAI TANG & Caroline Hu
SHANGHAI TANG collaborates with designer Caroline Hu to preserve the beauty of silver flower silk while giving it more modern attributes through the combination with clothing. Her works have always been full of romanticism from the inside out, and the chemical reaction between Tianhelou and silver flower silk has ignited her emotional spark for design.
Introduction of Collaborating Parties


"VOGUE Fashion and Beauty" is the world's leading fashion magazine, striving to perfect the combination of fashion needs, guiding and influencing the most stylish dressing and consumption.
Established in 2005, Beijing Yongle International Auction Co., Ltd. under Yongle Culture has the first-class qualification for cultural relics auction issued by the State Administration of Cultural Heritage. The auction projects cover Chinese calligraphy and painting, modern and contemporary art, antique treasures, exquisite jewelry, rare books, postal items, coins, fine wines, trend art, digital art, and more.
Phillips is a globally leading platform for the trading of 20th and 21st century art and design. With rich experience in various aspects of 20th and contemporary art, design, photography, edition works, watches, and jewelry, it is committed to providing collectors with professional and excellent services and opinions.